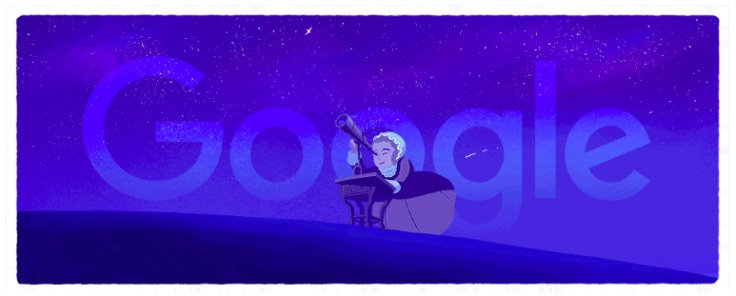 Caroline Herschel only stood at 4-feet and 3-inches but her contributions to cosmological science were immense, which is why she is being honoured with a Google Doodle on her 266th birthday. The doodle shows Herschel grinning as she looks into the night sky through a telescope while shooting stars pass by overhead.
Herschel was born in 1750, the eighth child in a rural German family with a knack for music. She suffered from a bout of typhus at the age of 10, which stunted her growth and led her mother to believe that she was destined for a life of spinsterhood.
Herschel's career started out in music but following her father's death, she moved to Bath in England aged 22 to join her brother, William, who was pursuing a career as an organist. The pair shared a passion for astronomy and William discovered Uranus in 1781, for which he received a knighthood and went on to become King George III's official astronomer the following year.
Caroline Herschel worked as her brother's assistant, but she experienced a major breakthrough of her own in 1786 when she became the first woman to discover a comet. In 1787 she was given a £50 (the equivalent to about £5,700 today) salary by the monarch for her work as William's assistant, making her the first female professional astronomer enlisted by Britain's monarchy.
Describing his aunt's love for the night sky in his diary in 1823, John Herschel wrote: "She runs about the town with me and skips up her two flights of stairs. In the morning, till 11 or 12, she is dull and weary, but as the day advances she gains life, and is quite 'fresh and funny' at 10pm and sings old rhymes, nay, even dances."
A keen observer of the universe, Herschel discovered eight comets, hundreds of stars and received gold medals from the Royal Astronomical society, the Astronomical society of London and the King of Prussia. She died in Hanover in 1848, aged 97.