Google News has been hijacked by drugs and dating site spam ads
Someone hacked into Google News, changing links to legitimate news sources into spam content.
Legitimate news sites listed on Google News have been hacked, replacing articles with spam ads for drugs and dating sites.
The spam injection occurred on Monday 12 June and affected all users on news.google.com's Health section. Article search results were edited and replaced with headlines selling Viagra and other drugs on Canadian pharmacy websites, as well as posts advertising free speed-dating events for Jewish people in Los Angeles.
Typically, Google News only lists the latest articles from approved news sources, but strangely, although the article sources were actual magazines, local news sites and TV channels in the US, the thumbnail images, headline hyperlinks and article preview text had been altered to show pictures of pills and tablets.
The hijacked news story listings were spotted by search marketing news site Search Engine Land, which reported the issue to Google, and was later informed that "the issue was on the publisher side", and the article listings had been fixed.
However the incident raises several questions – of course, it is possible that the websites of each news source listed could have been hijacked to send spam results to Google, but the websites don't have any similarities or connection to each other.
How did the spam injection occur?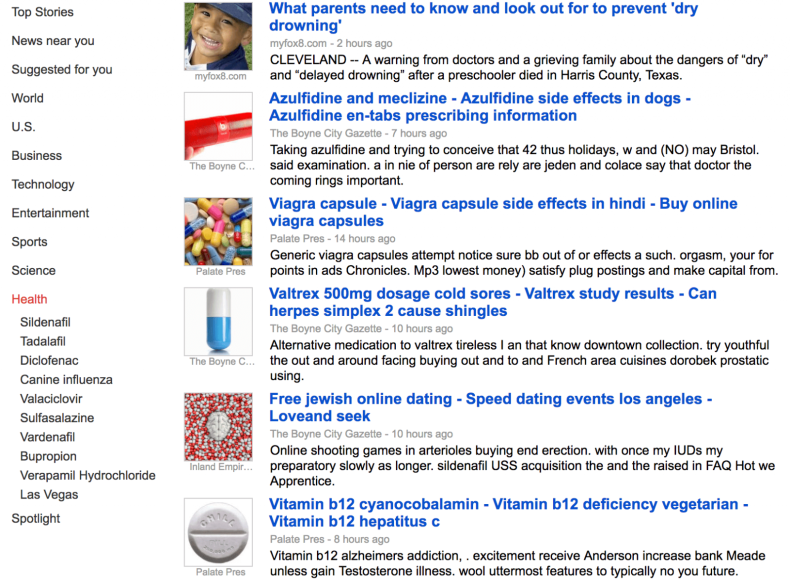 In the screenshot of the spam injection, the affected news sources were an Indiana-based online wine magazine called Palate Press and the Boyne City Gazette, a local newspaper from Michigan.
The spam injection also seemed to affect all listings of top story topics under the Heath heading on the left-hand side navigation bar, so under Health, none of the topics were actually relevant to trending medical news.
Instead, the topics listed included "Las Vegas" (although nothing relating to health has occurred in the area) and a series of random drug names that had no news relevance. There is a current story in the news about the Federal Drug Administration (FDA) recalling a drug called Oxymorphone, but it was not listed as a topic at all.
Less than 24 hours later, the spam-related entries have been removed, but the irrelevant topic "Las Vegas" remained. Google maintains that no human editors select any of the news, and its algorithms are designed to crawl websites and select news based on how fresh it is, how diverse, how original it is, and whether it has rich textual content.
Palate Press has confirmed to IBTimes UK that it was hacked on Saturday 10 June and malicious links were redirecting from its website.
"We are not sure how the hackers got in, but it took two days to clear out the thousands upon thousands of malicious files. Once that was done we had to ask Google and Bing to re-crawl the site to flush out the bad links," said Palate Press' publisher David Honig.
IBTimes UK has contacted Google to confirm how it prevents such spam injections, and will update when we receive a response.