Google has finally announced its highly-anticipated flagship phablet, the Nexus 6 (built by Motorola), at a low-profile event with little fanfare and celebration along with the release of the latest Android version dubbed as "Lollipop" in line with its candy-themed naming convention.
Featuring a monstrous 5.9in screen, the Nexus 6 clearly sports the largest Quad HD display in the phablet segment and poses a stiff challenge to Samsung's 5.7in Galaxy Note 4, which also comes with a Quad HD screen.
The similarities between the two power-packed flagship phablets from Samsung and Google extend to other hardware components as well, including the Snapdragon 805 processor, 3GB of RAM and Adreno 420 GPU.
Design: Nexus 6 vs Galaxy Note 4
The Nexus 6 holds true to recent rumours suggesting that the phablet indeed mimics the design and style features of another flagship smartphone from Motorola, the Moto X 2014.
The only differentiating factor between Motorola's Nexus 6 and Moto X phones comes down to the display size and the Nexus logo on the back panel.
In contrast to Nexus 6, the Note 4 appears less rounded at the edges, features only one speaker grille at the top and a physical Home button at the bottom bezel.
The Nexus 6 sports one extra speaker grille at the bottom bezel instead of a physical Home button.
Both the Nexus 6 and Note 4 feature a plastic body and given its size, the 5.9in Google phablet could feel a bit clumsy and unwieldy for users with smaller hands.
Not to mention, the Note 4 drives home the advantage of a sleeker and lighter body frame, given its dimensions of 153.5 x 78.6 x 8.5mm and weight of 176 grams (g).
Nexus 6 is 8g heavier and bulkier than the Note 4 with its overall dimensions measuring 159.3 x 83 x 10.1mm.
Display: Nexus 6 vs Galaxy Note 4
Both the phablets include a Quad HD display with 1440 x 2560 pixels resolution for razor sharp image clarity at the expense of draining more battery than a 1080p display.
The Nexus 6 packs 493 pixels per inch (ppi) on a 5.9in AMOLED screen in comparison to the 5.7in Note 4 with an impressive 515ppi pixel density on a Super AMOLED display.
Both the smartphones incorporate Gorilla Glass 3 protection for their screens, which makes it scratch-proof and resistant to shock damage during accidental drops.
Specifications apart, the Note 4 has a special advantage with its ability to turn extra sensitive through the use of gloves option via settings menu.
Software and Interface: Nexus 6 vs Galaxy Note 4
Google's Nexus 6 happens to be among the first few devices to ship the latest version of Android 5.0 Lollipop out of the box with a transition to flatter icons, animation rich-visuals and smoother UI with a fluid action system.
Enhanced notification system to control alerts straight from the lockscreen and the addition of dedicated power-saving mode via Project Volta for improved battery-life are among a few salient features introduced by Google with Nexus 6.
Some other key features ported to Android L include Material Design, 3D multitasking, 64-bit CPU support, Android TV, improved GPU support, ART runtime for faster performance, USB audio support, support for Bluetooth 4.1 and Android Auto.
Contrary to Google's lightweight and bloatware-free approach, Samsung has decidedly taken a full-fledged route in its bid to overhaul the existing TouchWiz UI with a bunch of new tweaks and perks.
Running Android 4.4.4 KitKat out of the box, the Note 4 portrays flatter icons with colour enhancements and smart features such as Smart Select for S Pen stylus sidekick, Smart Stay (control the screen lock feature with your eye movements), MultiWindow (switch between multiple apps simultaneously) and a special one-handed mode to resize the entire UI based on user requirements.
The Nexus 6 holds an edge with the most up to date Android software (Lollipop) coupled with latest updates from Google, while Note 4 stands out for its wide array of inbuilt apps for improved productivity and user experience.
Processor, Memory and Storage: Nexus 6 vs Galaxy Note 4
Despite packing a powerhouse with Qualcomm's latest Snapdragon 805 processor clocked at 2.7 GHz, both the Nexus 6 and Galaxy Note 4 fail to impress in the recently conducted graphics benchmark using GFXBench in comparison to Apple's iPhone 6 Plus.
According to Appleinsider, the transition from Samsung's Exynos to Snapdragon 805 processor variant seems to yield no performance gain, especially during actual rendering of OpenGL ES 3.0 benchmark tests.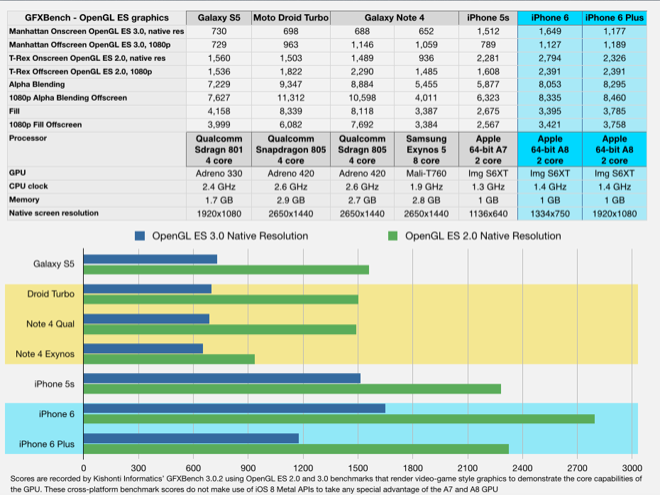 The Snapdragon 805 chipset reportedly delivers impressive low level graphics performance, which seems to be the only saving grace for the latest flagships running this new configuration from Qualcomm.
Both phablets implement 3GB LPDDR3 blocks of memory. The Nexus 6 comes in 32GB and 64GB internal storage models, while the Note 4 is currently limited to 32GB model only (a 64GB varaint is expected in future).
The Note 4 includes an additional microSD storage expansion slot (adding up to 128GB more space), while there is no such option with the Nexus 6.
Camera: Nexus 6 vs Galaxy Note 4
On the camera front, the Nexus 6 comes with a 13-megapixel rear camera based on Sony IMX214 Exmor RS sensor with optical image stabilisation (OIS), auto focus and dual-LED flash.
In comparison, the Note 4 includes a 16-megapixel rear camera with similar features including OIS.
A 2MP front camera takes care of video calls with 720p video recording capability on the Nexus 6, while the Note 4 features a 3.7MP front camera that is capable of 1080p video capturing.
Both devices are capable of doing 1080p videos and super high-res 4K UHD at 30fps, while Note 4 has a special capability of capturing slow-motion videos as well as shoot crisp and clear 1080p clips at 60fps.
Price and Release Date
The Nexus 6 is expected to be available directly via Google or from retailers including Currys, PC World, John Lewis, Argos and Amazon.
Not to mention, the phablet will also be available via UK networks, Three and O2, in November.
Though there is no official word on the price details for Nexus 6, the handset is estimated to cost $649 in the US (about £400 in UK) for 32GB model or $699 (around £440) for the 64GB variant.
In contrast, the Galaxy Note 4 is priced at £629 via Samsung online store and for £43.50/month on a contract basis via Carphone Warehouse.
The Note 4 is also available on EE for £459.99 with an extra £14.99 per month for a 4G contract with 500MB high-speed unlimited data plan.
You can also check out 4G offers on O2 UK here (coming soon).
There is no word on the exact release date for the Nexus 6 in the UK, though Google has hinted at a Q4 2014 release which coincides with Android L's debut.
However, the Nexus 6 will be available for pre-orders across all mobile carriers in the US (Sprint, T-mobile, Verizon and AT&T) starting 29 October with an expected release date set for 12 November by T-mobile.
There is no information about Nexus 6 carrier availability with the rest of US carriers as Google is likely to announce worldwide release dates for the handset in the next few weeks.