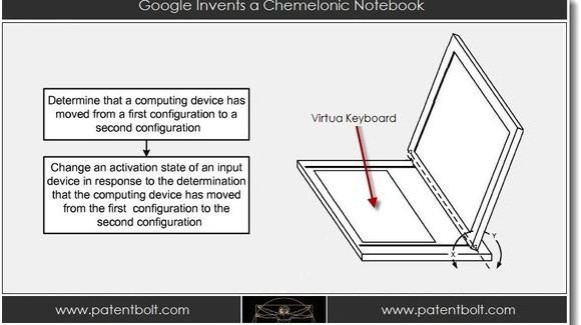 Riding on the success of its Nexus line of smartphones and tablet devices, Google is reportedly working on a hybrid (convertible) laptop-tablet device. If the design blueprints of the patent application, leaked through PatentBolt, are to be believed, the next-gen Nexus device could be a rotating hybrid laptop-tablet with no physical keyboard.
According to PatentBolt, the patent, titled Moveable Display Portion of a Computing Device, reveals support for tilting, sliding and even rotating display portions of the computer to be used as a regular notebook or as a touchscreen slate. In addition, the patent also reveals Google's plans of unleashing a dual boot OS with Jelly Bean and Chrome running on a hybrid Nexus device.
It must be noted that Google's Chrome OS never really made as big an impact as the Android has, over the years. Software challenges aside, the new patent enables smoother transformation between a laptop and a tablet; by simply sliding the display portion over the virtual keyboard, the tablet transforms into a notebook.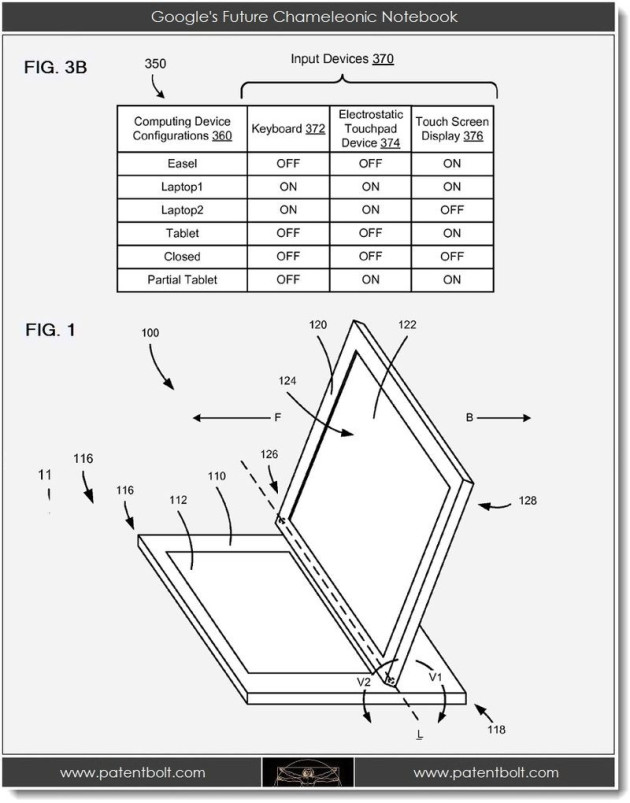 A concealed groove and a special hinge at the top edge of the lower-half of the computer allows the display to swivel around the corner and thus easily be transformed into a touchscreen slate by pushing it back to lie flat on the lower-half.
According to Google, the software is capable of tracing the display orientations and thereby automatically disable the virtual keyboard, if the display is moved forward, or alternatively lock touchscreen functions in notebook orientation.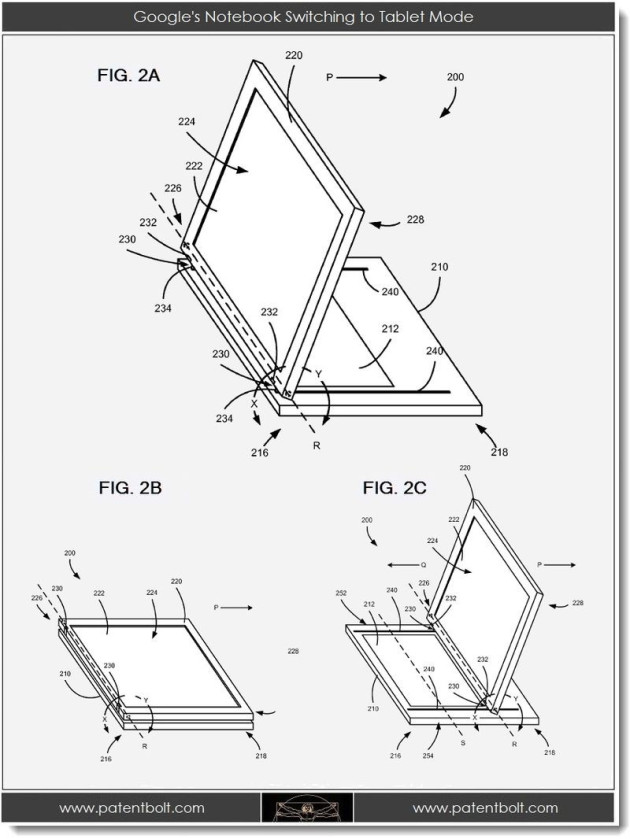 Google's hybrid tablet concept sounds both creative and innovative. Nevertheless, one particular analyst - Jack Gold - from J Gold Associates thinks otherwise. Gold believes the Android ecosystem is already far too complex and adding yet another form factor could be a bad idea. In addition, the number of cross-platform integrations and options that could result may lead to an increase in bugs and hardware compatibility issues.
"The issue is that there are so many different form factors and different models," says Gold, according to Tech Radar, adding, "On the other hand, if you get too complicated and too complex, especially if Google's doing it, one, you compete with your ecosystem, and two, people don't know what to make of it."
"What people want - what people mostly want today - is simplicity," the analyst continued, emphasising the lack of developer support for cross-platform integration (Jelly Bean with Chrome OS), "They also want functionality, but you know, if it's something weird, you have a hard time selling it."
The analyst's point may well be a valid one. There have been issues with inaccuracies of virtual keyboards on touchscreen smartphones and the functional advantage of QWERTY keyboards over the former are obvious. In that sense, Microsoft's Surface with attachable and physical QWERTY keyboards would seem a better bet than Google's supposed hybrid device.