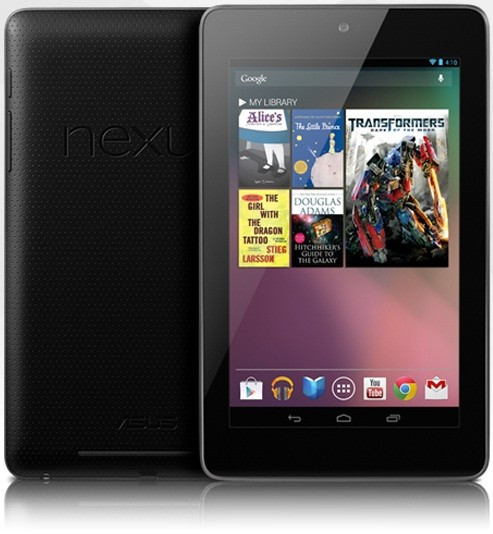 Google Nexus 7 was recently unveiled at the Google I/O 2012. The device has been "built for Google Play" that allows users to consume the apps, games, books and movies available in Google online store. It is expected to be available in mid-July. It is the first device to run the latest version of Android 4.1 (Jelly Bean) operating system. The new tablet is priced at $199 (£127.6) for an 8GB model and $249 (£159.7) for 16GB model. "The Nexus 7 tablet embodies the moment when tablet buyers no longer have to compromise performance for price," explains CNET.
The tablet appears to be impressive, and the factor which makes it stand apart from the rest is its low price. "Unlike now, the Kindle Fire has ruled over other low-cost Android tablets, but Google hopes to change all that with the Nexus 7, as the device promises to offer hardware at the same affordable cost," explains Gamasutra. The release of the Nexus 7 could prompt most Android OEMs to come up with their gadgets at similar price points. "This is a device that feels cooly utilitarian rather than luxurious. But Google is not web search engine for minority users; it has always aimed to be ubiquitous. And with Nexus 7, it wants to make the ubiquitous tablet. The 7" screen does everything it needs to with a resolution of 1280 x 700px, and at 340g it weighs enough to feel substantial without," explains The Telegraph.
The Nook tablet comes in an 8GB model and 16GB model priced at $199 (£127.6) and $249 (£159.7) respectively. The 16GB version was announced on 7 November 2011, while the 8GB model was released on 21 February 2012. Both devices tout a 7in screen.
"For any customer who likes to read digitally, watch movies or TV shows, browse the web, or help their kids read and learn through interactive books and apps, our new $199 NOOK tablet with 8GB is the best product value on the market," said William Lynch, Chief Executive Officer of Barnes & Noble.
Check out how both tablets stack up:
Dimension
The Nexus 7 comes with dimensions of 198.5 x 120 x 10.5mm and weighs 340g. "The Nexus 7's screen looks great and feels responsive; the tablet feels well-built and does a good job of demonstrating its power in games and movie performance," claims CNET.
The Nook tablet has dimensions of 206 x 127 x 12mm and weighs 400g.
Display
The Nexus 7 features a 7in LED back-lit IPS LCD capacitive touchscreen with a resolution of 1280 x 800 pixels at 216 pixels per inch (ppi). It includes scratch-resistant Corning Gorilla glass.
The Nook tablet comes with a 7in IPS LCD capacitive multi-touch screen with a resolution of 1024 x 600 pixels at 170 ppi.
Processor
The Nexus 7 is powered by the Nvidia Tegra 3 chipset with a 1.3GHz quad-core processor. It includes 12-core GPU. It ships 1GB of RAM.
The Nook tablet is powered by the TI OMAP4 chipset with 1GHz processor. The 8GB model ships 512MB of RAM, while the 16GB ships 1GB of RAM.
Storage
The Nexus 7 comes with internal storage options of 8/16GB, but lacks a microSD card slot.
The Nook tablet comes in two internal storage options - 8GB and 16GB. It contains a microSD card slot with an additional memory space of 32GB. "The Nook Tablet, which also comes in a 16GB step-up $249 model with a slightly faster processor, has a more distinct design than the Kindle Fire and it also has an expansion slot for more memory, a big plus, claims CNET.
Connectivity
The Nexus 7 features Wi-Fi 802.11 b/g/n, Bluetooth and NFC (Android Beam), while the Nook tablet includes wireless connectivity via Wi-Fi 802.11 b/g/n.
Battery
The Nexus 7 packs 4325mAh Li-Ion battery and is expected to offer up to eight hours of active use.
The Nook tablet's battery offers up to 11.5 hours of reading or nine hours of video without recharging.