Google has extended its All Access subscription streaming service to nine European countries including the UK, costing £9.99 per month.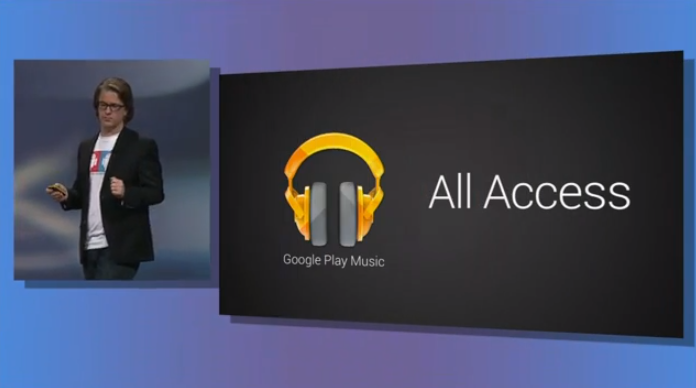 Launched in the US in May at the company's annual I/O developer conference, Google Play Music All Access (to give it its full, unwieldy title) rivals the likes of Spotify and Pandora in the subscription streaming market, as well as Apple's up-coming iTunes Radio service.
Costing £9.99 a month (or £7.99 if you sign-up before 15 September) the service will let you explore millions of tracks "on-demand", offers Google-powered recommendations and blends your personal library of purchased music with Google's own catalogue. People signing up for the first time will be given a 30-day free trial.
"With today's launch, Google Play moves one step closer to your ultimate digital entertainment destination, where you can find, enjoy and share your favourite apps, games, books, movies, magazines, TV shows and music on your Android phone or tablet. Go ahead and start discovering a whole new world of music," said Paul Joyce, Product Manager for Google Play Music.
The service has been integrated into Google's existing Music service and can be accessed on Android smartphones and tablets through the Google Music app. You can also access the service through your browser at play.google.com.
Integrates
All Access is now available in Austria, Belgium, France, Ireland, Italy, Luxembourg, Portugal and Spain as well as the UK.
The service integrates with your own collection with Google Play Music lets you store up to 20,000 tracks in the cloud for free.
Google is just the latest company to launch such a service, with Spotify already an established presence in the UK market. In the US there is a lot more competition with Pandora and Rdio offering similar subscription services. All are priced in or around the same as Google's monthly subscription, meaning Google's advertising might and the sheer volume of people already using Android could help it gain major market share.
Elephant
Of course the elephant in the room is Apple's recently-announced iTunes Radio service. This has yet to launch and currently is only confirmed for the US with no planned UK launch but considering Apple's appeal it could become popular very quickly.
Unlike Google and Spotify however, iTunes Radio won't let you pick and choose particular tracks at will, a fact which led one analyst to speculate that iTunes Radio won't really disrupt the music industry.
"What would be really disruptive is a service that allowed you to call up specific songs on demand as you can with Spotify, but that would likely have disrupted Apple's existing iTunes business, and the music industry as a whole, too much," Jan Dawson, chief telecoms analyst at Ovum.
Spotify however got a boost in the UK market on Wednesday when Vodafone announced that it would be offering the service as a perk to those signing up to contracts on its new 4G service, with another option being access to Sky Sport Mobile TV.