Jigokudani Wild Monkey Park in Japan is home to the Japanese Macaque – a terrestrial Old World monkey species.
Established in 1964, Jigokudani Wild Monkey Park allows visitors to observe the monkeys in their natural habitat, as they bathe in the warm springs, which are surrounded by hot steam and boiling water that bubbles out of tiny gaps in the frozen ground. Surrounded by towering cliffs and formidably hostile forests, the term 'Jigokudani' derives from 'Hell's Valley' which is where the parks name originates from.
The park, located in Yamanouchi, Shimotakai District, Nagano Prefecture in Japan is linked to the Jōshin'etsu-kōgen National Park, locally known as Shigakogen and is situated in the valley of the Yokoyu-River, in the northern part of the prefecture.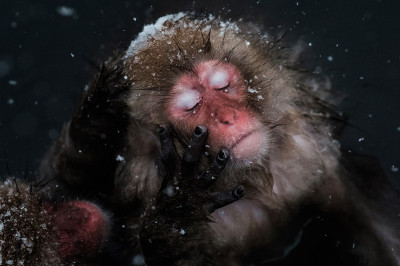 The Japanese macaque has featured prominently in the religion, folklore, and art of Japan, as well as in proverbs and idiomatic expressions which can be seen in the Japanese language. In Shinto belief, the mythical beasts known as raiju sometimes appeared as monkeys and kept Raijin the god of lightning, company.
Accustom to humans, the snow monkeys at Jigokudani can be observed very closely, almost completely ignoring the human onlookers. Usually venturing to the valley during winter, the macaques only start foraging elsewhere in the national park for the warmer months, descending from the steep cliffs to sit in the hot springs of the onsen before returning to the security of the forests for the night.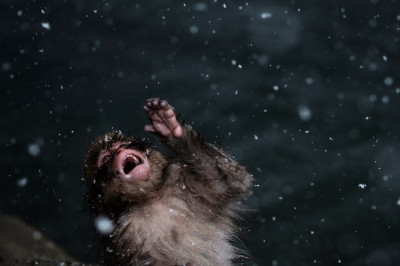 The Japanese Macaques live in large social groups, living in areas where snow covers the ground for months at a time – no other non-human primate is known to live in a colder climate. Although, Jigokudani is not the farthest north that monkeys with venture, or live. The Shomokia Peninsula, the northern part of the Honshu island being the northern limit of the snow monkeys habitat.