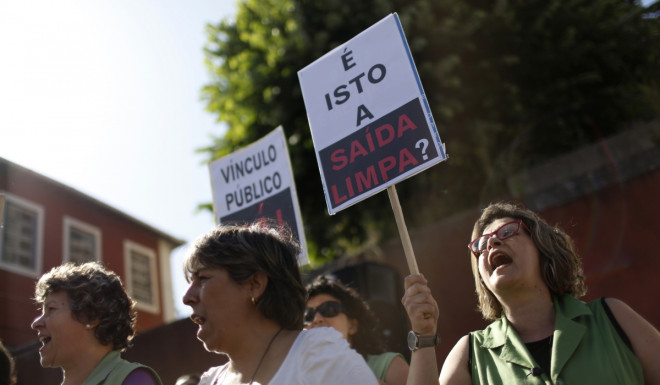 As Portugal exits the international bailout that brought relief and reform to its economy and austerity to its citizens, the long hoped-for recovery remains elusive.
Gross Domestic Product slumped early this year, as Portugal's economy shrunk by 0.7% in the first quarter. It came as a shock and shows how far the country has to go until its crisis is over.
That has not stopped Portuguese politicians heralding the exit as a triumph. The country's Deputy Prime Minister Paulo Portas said this month that "everybody in the government shares with all Portuguese a feeling of mission accomplished".
The relief among the government is palpable and banks are bullish. "We have been recommending Portugal as one of our top trades for 2014 and so far Portugal has been the star performer," Danske Bank analysts said in a research note.
When the Portuguese bank BES launched a three-year bond in early May, it was almost doubly oversubscribed.
There is some reason for cheer. Portugal is making a clean exit, meaning it will not need to take an extra loan when it exits.
The €78bn rescue package, granted by the so-called 'troika' of the International Monetary Fund, the European Central Bank and the European Commission, has been repaid in full. The country's budget looks much healthier and the government's borrowing costs are back at manageable levels.
The atmosphere in the EU in 2014 is much different to the uncertainty of 2011. It should not be forgotten how close it came to serious trouble with a very real prospect of defaulting.
However, three years of tough reforms have hurt as well as helped the country. Unemployment is down from a 17.5% peak last year but remains a challenge, especially among the country's youth. While wages have fallen, the European Commission says they have not come down enough to have a significant impact on unemployment.
Moreover, the structural issues with the Portuguese economy are too big to be overhauled in three years.
Antonio Barroso, senior vice president at Teneo Intelligence consultancy, told Reuters that reforms made during the bailout period will take time to have an impact.
"These are political economies that are very difficult to reform. The only way to change is incrementally," he said.
With the government facing the electorate next year, political pressure to offer voters some kind of economic respite will be high. Without the troika bearing down on them, the Portuguese leadership will be tempted to stray from the path of strict austerity. While this could ensure short-term political survival, the economic consequences of will undoubtedly be long-term.