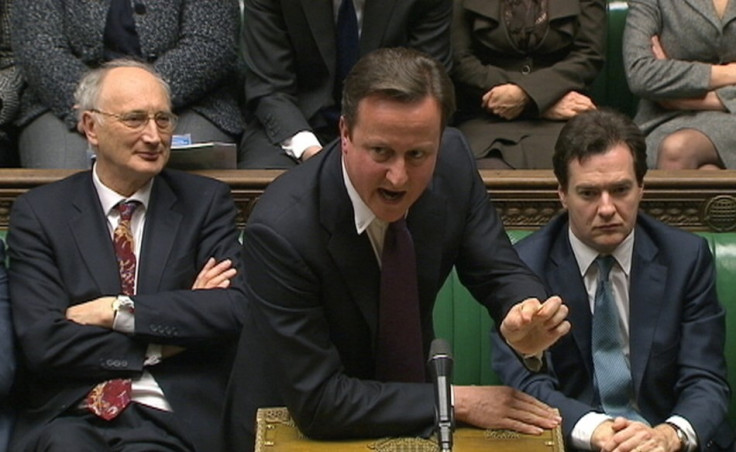 Britain's Prime Minister, David Cameron, recently announced in the House of Commons: "...we will be legislating so that energy companies have to give the lowest tariff to their customers..."
Fine of course, if the Prime Minister had been referring to any of the energy companies which are state-owned or in which the Government had retained a "golden share". Problematic when no such company exists any longer in the UK and unless the Government has plans to re-nationalize one or more of the larger energy companies, at enormous expense in legal fees and "fair market price" compensation, Mr Cameron's statement could be seen as ill-judged political rhetoric.
Since Mr Cameron's surprise announcement on energy tariffs, the Government has been somewhat on the back-foot regarding energy issues, a point made blatantly clear by the front-page headline of the Scottish Daily Mail on Saturday, 03 November.
It is easy to laugh at the PM's attempt to get some popularity by possibly trying to force or embarrass the energy companies to simplify the maze of Gas and Electricity tariffs on offer which their own call centres are not always clear about, and the cost of living going but one way - up. With winter fast approaching and all but one of the major power companies raising their Gas and Electricity prices, there is little doubt that most households are going to feel the pinch. Less the matter of the "squeezed middle" and more the "squeezed whole".
When EDF Energy announced on 26 October that it would raise its prices by 10.8 percent as of 07 December, whilst promising that their 100,000 most vulnerable customers will be put on their cheapest charge rate, the Energy Minister, Greg Barker told the media that the Government intended to outline to all companies' users, how they could obtain the best tariff in a forthcoming Energy Bill. Doesn't have quite the same punch, though probably more realistic as to what the Government is actually capable of doing.
Having highlighted EDF Energy it's only fair to list the others with their new price hikes and effective start dates:
SSE - Already operational, 15 October, Gas and Electricity up nine per cent.
British Gas - 16 November, Gas and Electricity up six per cent.
Npower - 26 November, Gas up 8.8 per cent, Electricity up 9.1 per cent.
Scottish Power - 03 December, Gas and Electricity up seven per cent.
The only company yet to announce a price rise is E.On which is expected to do so effective some time in January 2013.
Knowing that price rises will not make them popular and that politicians will try to deflect as much of the blame as possible on to them, the energy companies have of late explained their costs of operations and put a breakdown of these, along with their net profit, on their customers' statements. Getting my Gas and Electricity from the same supplier, my breakdown, "Where your money goes", reads as follows:
Gas
External Costs Gas bought from wholesale market - 56 per cent
Delivery to your home (regulated by Ofgem) - 21 per cent
Government obligations and taxes (inc Green Levees and Social Support) - 10 per cent
Our Costs Operating Costs - 8 per cent
Our profit - 5 per cent
Electricity
External Costs Wholesale electricity costs - 41 per cent
Delivery to your home (regulated by Ofgem) - 24 per cent
Government taxes (including Green Levees and Social Support) - 20 per cent
Our Costs Operating Costs - 11 per cent
Our profit - 4 per cent
There's further information on the statement including how many billions they are investing or have invested, other possible tariffs that might be of interest and such like. Whatever else, as a public relations exercise, the company I am with, which I assume is typical, is determined not to be seen as some robber baron.
The part that all utility companies will increasingly highlight is that "Green" element imposed by the Government as a result of commitments that this and past administrations have entered into to reduce greenhouse gases and climate change.
As EDF's Director, Martin Lawrence told the BBC on 26 October: "We recognise it (10,8 per cent increase) is difficult news at this time and we regret these price rises." But he made it clear that although the wholesale costs played a part, a major contributing factor was also the mandatory Government charges.
Not to be forgotten is the fact that all the energy companies are private - except EDF which is owned by the French Government with 100 per cent of the shares - and the responsibility of their directors is to their owners, shareholders or French Government. A very inconvenient truth which makes it hard for any government to dictate their pricing structure.
On Monday 05 November, Reuters reported that MPs on the Public Accounts Committee "tore into the chief of the tax authority...for allowing coffee chain Starbucks to pay almost no corporation tax, despite selling coffee and snacks worth billions of pounds to British customers..."
Ah, Globalisation, a blessing and a curse it seems!