Many people were close to Nelson Mandela, and one of the people who knew him best is his widow, Graça Machel, a former guerrilla fighter and humanitarian worker.
Graça Machel married 80-year-old Mandela two years after his divorce from second wife, Winnie, in 1998.
According to Anthony Sampson's book, Mandela: The Authorised Biography: "they were married in the new house [in Houghton], Mandela in a gold-patterned open shirt, Graça wearing a long white dress with wide puffed sleeves, Elizabethan-style.
"They were blessed beforehand by the Chief Rabbi, and also by the Muslim Sheikh Nazim Mohammed and the Hindu Mrs Nanachene. They were married by a Methodist Bishop, Myume Dandala - since they had both been brought up as Methodists, assisted by Desmond Tutu."
The wedding reception for Nelson and Graça was combined with Nelson's birthday party at the Gallagher Convention Centre in South Africa. There were 2,000 guests including Michael Jackson, Danny Glover and Stevie Wonder.
Their courtship was far from a whirlwind romance, taking time to grow. With characteristic candour, Machel told a Portuguese newspaper that, as with her first husband: "Nelson and I were together some time before love came. It wasn't love at first sight. No, with me, things don't happen like that."
However, Machel "wasn't pushy about being the new Mrs Mandela," said Charlayne Hunter-Gault, a former American journalist based in Johannesburg, quoted in the Washington Post. "She didn't flaunt it, and she showed a lot of respect for the feelings of people in South Africa."
Machel was born Graça Simbine on 17 October 1945 on the coast of Mozambique, under Portuguese rule. Machel, whose father died before her birth, won a scholarship to high school in Mozambique's capital, Maputo, where she was the only black African in a class of white students.
She is also fluent in French, Spanish, Italian, Portuguese and English, as well as her native Tsonga.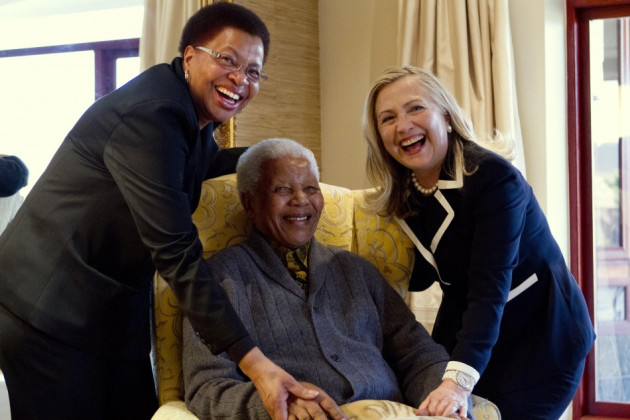 Her experiences at school influenced her later political beliefs. "Why is it that I'm made to feel strange in my own country? They're the foreigners, not me. Something is wrong here," Machel later said in interview with The Guardian.
She trained as a guerrilla fighter with the Front for the Liberation of Mozambique, and she married Samora Machel, the movement's leader. He was killed in a plane crash over South Africa in 1986.
Mandela wrote to her from jail, offering condolences. Machel replied: "From within your vast prison, you brought a ray of light in my hour of darkness."
After Mozambique won independence from Portugal, Graça became the education minister and played a key role in boosting the nation's literacy rate.
She has won many awards for her humanitarian activities, such as the Laureate of Africa Prize for Leadership for the Sustainable End of Hunger in 1992, and the Nansen Medal for her contribution to the welfare of refugee children in 1995.
Machel once talked about being married to two leaders who played vital roles in the history of two African nations: "It's not two leaders who fell in love with me, but two real people. I feel privileged that I have shared my life with two such exceptional men."