Chelsea legend Graeme Le Saux believes that John Terry still has a lot to offer Premier League teams as the long-serving Blues captain weighs up an important decision over his next move. With that latest one-year contract set to expire in June and no new extension thought to be forthcoming, the veteran centre-back may well have to choose between staying on at Stamford Bridge in a coaching capacity or else end a 22-year association with his boyhood club in order to continue his playing career elsewhere.
Chelsea have remained adamant that no decision over Terry's future will be reached until the end of the end of the season, although reports in December suggested that he had already been told that his playing deal would not be renewed. Manager Antonio Conte has praised the 36-year-old's dressing-room impact amid a chronic lack of first-team football and it is thought that there is a strong desire to retain his services as an academy coach.
Terry has previously insisted that he could not join another top-flight club, although Stoke City, West Bromwich Albion and Bournemouth were all said to have made approaches for his signature during the January transfer window in addition to suitors from both China and the United States.
"John's had a fantastic career, he's a one-club man," Le Saux told IBTimes UK at this week's Premier League Enterprise Challenge final. "It's always difficult when somebody comes to that stage of their career where they're not first-choice at the club they've been at all their lives and so a decision has to be made.
"The opportunity he's got is that, now there is a global market for football, he could go and play overseas in any number of countries and get handsomely rewarded, have a wonderful family experience and enjoy a different culture. That's a realistic option for him.
"Or equally I'm sure there would be Premier League clubs that would still be interested in his services, because he still has a lot to offer. He has to make that decision. Does he want to go somewhere else over a short period of time? And what impact does that have on his Chelsea history? Does it have any impact? Does he want to go overseas? Does he want to retire? It's a wonderful position to be in, because he's had such a such a fantastic career at Chelsea. Whatever option he takes, I'm sure it will be well thought out. And if he does go to America, I'll take his bags."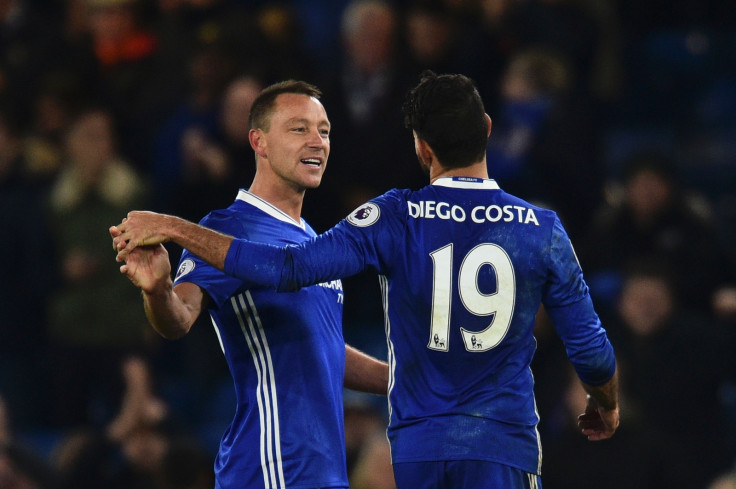 Despite his successful reintegration into Conte's starting XI following a training ground row with the Italian and fitness coach Julio Tous over a back injury, another Chelsea player whose future will be subject to more intense scrutiny over the coming months is Diego Costa. The fiery striker recently admitted how he had to return to Conte with his tail between his legs after failing to force through a return to Atletico Madrid last summer and links with the cash-rich Chinese Super League persist after a lucrative offer from Tianjin Quanjian.
Does former Blues full-back Le Saux see Costa remaining in West London for next season and beyond?
"If I was his manager, I'd be desperately trying to keep him at my club going forwards because he's a fundamental player in that Chelsea team," he said. "He's a wonderful asset. He's got great character off the pitch, in the dressing room he's a really bubbly character. He's got a lot of spirit and great leadership skills.
"Sometimes he falls the wrong side of his commitment. I've had players with similar natures in dressing rooms that I've been in and they're such an important and integral part of that dressing room and the spirit. I'd be desperately trying to keep him, but ultimately we're in an era where players can have their heads turned. There's huge amounts of money around, big rewards for playing overseas potentially.
"So there are challenges, but again it's up to him what he wants out of his career. Ultimately contracts for many years now have been, how shall we say...there's not been a lot of contractual stability with playing contracts. Because if players are doing well, they often have their heads turned despite the length they've got left on their contract. That's the reality of the market and I suppose ultimately if he wants to do one thing or the other, it's going to be very hard for any club to stop a player of that calibre doing what they want eventually. You've just got to hope that he makes the decision based on what's best for him but also the relationship he's got with his teammates as well."