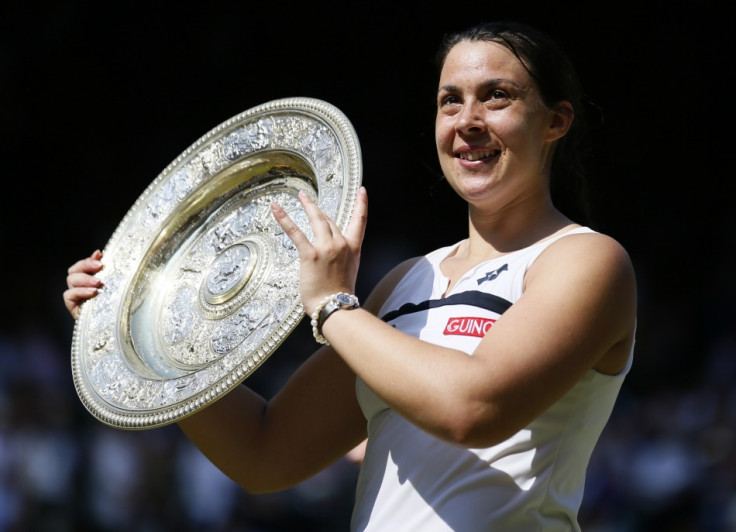 French tennis player Marion Bartoli has revealed how watching footage of her surprise Wimbledon triumph in 2013 gave her the resolve to beat an illness that almost killed her.
Confined to a hospital bed for four months last year after suffering from exhaustion, she was too ill to watch the whole of her shock two-set final against Sabine Lisicki in 2013. However, she could muster the strength to view the last two games, which saw her take the title.
In her first interview since she fell ill, she told the Times: "Winning a grand slam saved me last year. I went through a lot on the tennis court but it was nothing compared to what I went through last year. It kept me alive.
"It was the worst period of my life. I felt I was in a bad movie. I was fighting but all I could do was sleep. I was fed by tube. I am a tough cookie, difficult to kill, that's for sure."
She dismissed rumours of anorexia after she was pictured in public with noticeable weight loss.
She said that instead, she was suffering from physical exhaustion and a viral infection that doctors had told her was like the H1N1 virus "but stronger" and that her body was not processing protein as her hair had started to fall out.
She attended last year's Wimbledon as a commentator but was so weak, she could not even climb the stairs at the flat she was staying in.
"I could not wash myself with normal water, I could not type an email. My skin was so thin that I could feel the electricity. I had arthritis. I was buying clothes for 14-year-olds."
She won Wimbledon in 2013 without dropping a set and said she said she was not bothered by the controversial statement by BBC commentator John Inverdale, who said she was "never going to be a looker", which was criticised in many quarters for being sexist.
Now retired from the sport, she told the Times how she has recovered and is careful with her workload.
"I am starting to feel alive again, ready to build a love story, to build starting a family," she told the paper.