Controversial Conservative Party co-chairman Grant Shapps has issued a statement categorically denying allegations he altered his own Wikipedia page and those of others within the party.
The Guardian alleged on 21 April that the online encyclopaedia had blocked a user account suspected to be that of the member for Welwyn Hatfield and minister without portfolio for using the profile name "Contribsx" to make the changes.
However, Grant Shapps retorted: "This Guardian smear is categorically false and defamatory. It is untrue from start to finish, and was quite likely dreamt up by the Labour press office. Sadly it is typical of the smears coming from those who would rather not debate policy and substance."
According to The Guardian, "Contribsx" removed details on the Shapps page about his activities as Michael Green, the "millionaire web marketer." A reference to the infamous comment about beer and Bingo following the 2014 Budget was also changed.
More damagingly, the same contributor also changed the entries for fellow Conservatives Philip Hammond, Justine Greening and Lynton Crosby.
Wikipedia described the setting up of false profiles "for an improper purpose, such as to mislead other editors, disrupt discussions, distort consensus or avoid sanctions" as "sock-puppetry", which is not allowed.
A Wikipedia spokesman told The Guardian they "believe that the account Contribsx is a sock-puppet of Grant Shapps' previous accounts on Wikipedia... and based on the evidence the account is either run by Shapps directly or being run by someone else - an assistant or a PR agency - but under his clear direction."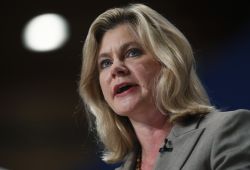 With the general election now only a fortnight away, the allegations could hardly come at a worse time for Shapps, still tainted by the "Michael Green" affair. However, he completely denies the latest allegations, telling Sky News: "We told the Guardian in advance it's complete nonsense, it's false and defamatory, they chose to publish it anyway."
Shapps continued: "Really, it goes beyond smears, I don't know if it's the Guardian and Labour working together, ridiculous."
Following the allegations, the Liberal Democrats put out a tongue-in-cheek statement: "Grant is a wonderful guy – he is a credit to the Conservative Party, a fine sportsman and reads a book a day. We could all learn a lot from him.
"He has led the Tories with exemplary skill and if, like me, you have been lucky enough to meet him – you know you have been touched by greatness.
"Quite simply, a colossus.
"This Press Release has been edited by Wikipedia user Contribsx."