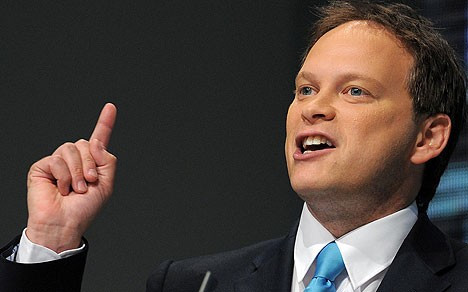 There is a joke going around Westminster that Tory chairman Grant Shapps' staff have replaced the big wall clock showing the days to the 2015 general election with one showing a much shorter countdown – to his sacking.
The energetic, tech-savvy Conservative campaigns boss was already the centre of speculation about his future amid suggestions he had fallen out with the No 10 election strategist Lynton Crosby.
But following the astonishing car crash of his infamous "beer and bingo" tweet, it is expected David Cameron will replace him in the predicted reshuffle after May's Euro and local elections, also viewed as a disaster-in-waiting.
Tory MPs will be looking for a scalp in the wake of a humiliation, and Shapps appears to have conveniently offered his forehead and told Cameron to slash away whenever he is ready.
The irony of all this is that it was Shapps who brought Crosby into the team in the first place and it will be Crosby, as much as anyone else, who will be eager for him to go.
Senior Tories have said that both Crosby and chancellor George Osborne, who is in overall control of election strategy, were furious about the tweet which had not been run past them before it was posted with the enthusiastic request for it to be re-tweeted.
It would have been an uncharacteristic miss if the tweet had been signed off by Crosby without him spotting the glaring political gaffe it represented with its "them and us" implications.
There is a further irony in the fact that Shapps does not easily fit into the "us" group. He is not one of the privileged, Eton-Oxbridge set which gives the current Tory party its image.
He is a grammar school, polytechnic-educated "striver" whose energy and business nous led to him creating his own printing and design company by the time he was 22.
In his spare time he is a qualified pilot and has his own private plane. He can even claim some street cred from the fact his cousin is Clash guitarist Mick Jones, although that is probably undermined by his choice of Bill Withers' Lovely Day as his favourite song.
He claims to love Nandos rather than the more upmarket restaurants Cameron and his friends might prefer.
And to that degree he epitomises the sort of individual his political hero, Margaret Thatcher, wanted the party to appeal to.
And it appears to have been his enthusiasm, drive - he is known as the Duracell Bunny by some colleagues - and familiarity with modern campaigning techniques such as Twitter and Facebook that suggested him as a natural successor to Baroness Warsi when he was appointed party chairman in 2012.
He was quick to employ all those tools in his job, part of which was to rebuild the Conservative's crumbling membership base which stood at 177,000 compared to the 258,000 in 2005.
However, his argument that card-carrying membership is no longer the best judge of a party's grassroots strength when it can get to people through social media has failed to convince many in the party.
One senior backbencher said: "A tweet or Facebook profile can't go knocking on doors or ferrying elderly voters down to the polling station."
However, he did pull off a political coup last year by recruiting Barack Obama's campaigns head, Jim Messina, a huge deployer of modern technology, to advise the party on its digital strategy.
Schapps was first elected to parliament in 2005 and swiftly appointed to the frontbench. In government he has served as housing minister but recently ran into controversy when it was claimed he had tried to block plans for the building of a housing estate on an airfield in Hertfordshire where he keeps his £100,000 Piper Saratoga plane.
He was also forced to hit back after it emerged that he used an alias, Michael Green, to write self-help guides for a website called HowToCorp, which he ran with his wife Belinda.
And, in true party campaigns boss style, he attacked the BBC over alleged bias and went so far as to suggest it might lose its licence fee.
But until the Twitter gaffe, he had appeared pretty resilient. It would be the final irony if it was that affair which led to his sacking as party chairman, with the warning that he who lives by the tweet can easily die by the tweet.