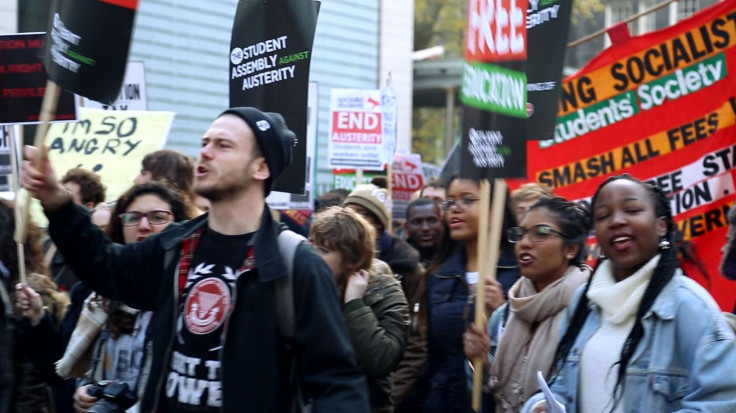 Police have confirmed that arrests have been made during a free education protest that took place in London on Wednesday (4 November). Some student protesters reportedly clashed with police outside the Home Office and the Department for Business Innovation and Skills.
The Metropolitan Police confirmed that it had made 12 arrests for public order offences. Students took to Twitter to report that some of them had been placed in a confinement, however, this was denied by the police.
"A small group of protesters threw paint outside the Home Office and another group attempted to push their way into the Department for Business Innovation and Skills building but were prevented by police," a Met Police statement read. "During this spell, a small number of smoke bombs and eggs were thrown at police."
The hashtag #GrantsNotDebt was trending on Twitter during the day as students marched through London to protest against the government's plans to scrap maintenance grants from next year. Organisers of the protest, the National Campaign Against Fees and Cuts, estimated that more than 10,000 students had attended the protest. The march began at Malet Street, the former University of London, where Shadow Chancellor John McDonnell addressed the crowd.
"This government is betraying you and future generations and I'm here in solidarity for education," said McDonnell. "Let me say this to you: your voice needs to be heard. Education is a basic human right not something to be bought and sold. This generation will teach the Tories that we will not stand by and let them destroy our futures."
Labour leader Jeremy Corbyn also endorsed the campaign for free education. Although he did not attend the march, a statement was read out on his behalf before demonstrators began their march.
Corbyn's statement read: "Switching back to a loan in place of a maintenance grant will push the poorest students into higher levels of debt. We must also look again at restoring EMA [education maintainance allowance] and increasing college places, so all young people have the opportunity to go to further education and, if they wish, on to higher education too."
Shortly after the arrests were made protest organisers appealed to demonstrators to go to West End Central Station, where the arrestees were being held and show their "support". They have also called for a further day of action on 17 November, which will focus on the treatment of international students, migrants and refugees.
Deborah Hermanns, from the National Campaign Against Fees and Cuts, said: "We know that the fight for free education doesn't end at the end of this demonstration. We are not just marching for one day and for the abolition of fees. We are building a movement which can strike to win, just as other movements all over the world have won."