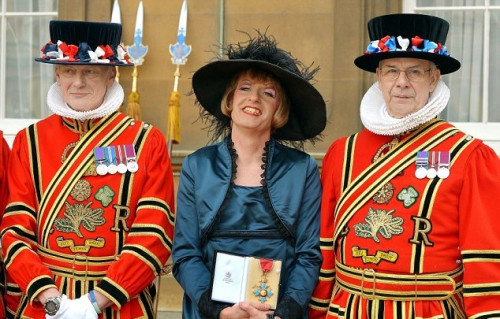 Turner prize winning artist Grayson Perry has become the first male cross-dresser to collect a royal honour.
Perry was awarded a CBE by Prince Charles and the 54-year-old made sure he was suitably dressed for the occasion. Wearing a midnight blue dress and jacket, heels, and wide brimmed black hat he said: "This is my Italian mother of the bride outfit."
The acclaimed artist said that he was initally somewhat apprehensive about his attire for the investiture ceremony.
"When I got the call my first thought was, 'What am I going to wear?' It's a serious thing. I'm not going to compromise my identity as Britain's pre-eminent transvestite.
"I Googled to see what people wore and went for the sexier end. I always do like the older woman who makes an effort."
He revealed his outfit had been agreed in advance with the palace, adding: "They are pretty cool here."
The Queen's official spokesman said: "His attire was entirely appropriate. People would have been more upset if he had turned up in jeans."
Britain's most famous transvestite, Perry bowed rather than curtseyed. The brim of his hat was too wide for Prince Charles to place the medal around he's neck, so it was handed to him. He revealed that he first wore the hat at a Transvestite Bridal Weekend.
Speaking about the honour Perry said: "Receiving this was great, it's not just for me it's for all the artists - no really it's just for me, for 30 years of hard graft."
He achieved widespread public fame in 2003 when he became the first potter ever to receive Britain's most prestigious arts prize, The Turner prize, winning high praise for "subverting the craft form of ceramics."
Born in 1960 in Chelmsford, he began his career at Braintree College of Further Education and then studied fine art at Portsmouth Polytechnic.
Perry says he realised he was a transvestite when he was teenager, and as he began experimenting with cross-dressing, he was thrown out of his father's home by his stepmother.
Describing his rise to fame he said: "I'm grateful I'm not one of these people who has sky-rocketed to fame.
"Some people say I've become a member of the establishment but I've been that for years. I'm an RA [Royal Academician].
"The idea that rebellion is at the margins of society - that's false, it's far more interesting to be mischievous from the centre."
Perry lives in London with his wife Philippa, a psychotherapist and his daughter Flo, 21.