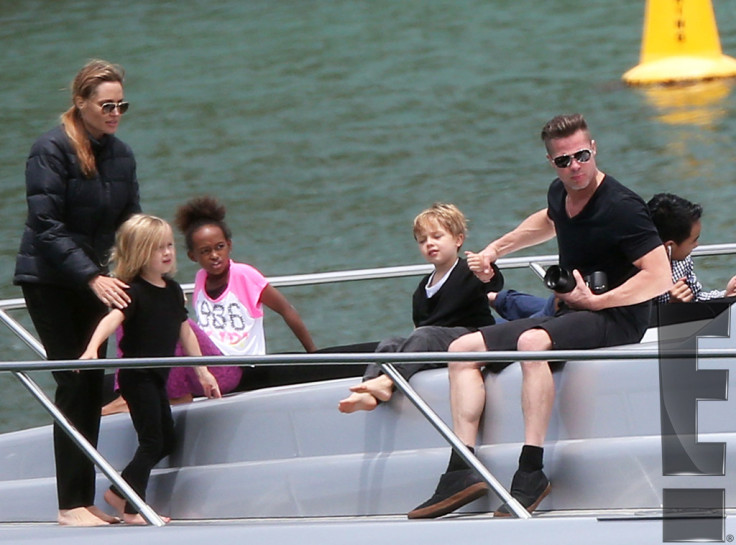 While they enjoy a lavish lifestyle all year round, the festive season is a good excuse for the world's most famous stars to step out of the spotlight for a well-earned rest. But whether they're home for the holidays or setting off for sunny climes, they are sure to celebrate in their own inimitable A-list style.
From Hawaiian holidays, to skiing in the alps and a great Australian escape, Rihanna, the Beckhams, Tom Cruise, One Direction and the Kardashians, have Christmas all wrapped up.
Hollywood royalty Brad Pitt and Angelina Jolie were spotted jetting out of Sydney at the weekend for a yuletide adventure down under. Jolie has been based in Australia while directing her new movie Unbroken. The A-list couple have extended their tour to the Coomera River in Queensland where the entire Pitt-Jolie brood are said to be staying at a rented home for the Christmas period.
The Wolf Of Wall Street star Matthew McConaughey and Brazilian wife, model Camila Alves, took their three children back to her home town of Belo Horizonte in south east Brazil for the holidays. The couple were spotted on a leisurely sight-seeing trip with five-year-old Levi, Vida, three, and 11 month old Livingston.
Tom Cruise is making it a magical Christmas for seven year-old daughter Suri with a trip to Disneyland in Orlando, Florida, and the presence of the Hollywood star has not gone unnoticed. Holidaymaker Sydney Rae Davis tweeted yesterday: "In Disney World, just had the best dinner of my life, And I'm in the same building as Tom Cruise. It's a GOOD day."
Cruise's 18-year-old son Connor, tweeted his joy at joining his family, writing: 'Disney World!!!!!!!!'
The Disney vacation comes as welcome relief after The Mission Impossible star reached a settlement in his $50million lawsuit against the publisher of both Life & Style and In Touch magazine, after it was suggested he had abandoned Suri after divorcing Katie Holmes in 2012.
Mariah Carey, 43, and her husband of five years Nick Cannon, 33, are on their annual holiday at the stunning mountain resort of Aspen. Putting paid to rumours that all is not well in their relationship, the All I Want For Christmas singer has been sharing pictures of Nick and their twins Monroe and Moroccan posing in the snow.
The Hunger Games: Catching Fire star Liam Hemsworth is staying close to home this year. It's his first Christmas without ex-fiancé Miley Cyrus after the couple split in September. The 23-year-old was seen picking up some drinks from a local Starbucks in Malibu with his father Craig.
After wrapping up her Diamonds World Tour Rihanna has headed to her native Barbados in search of some winter sun. The 25-year-old shared photos of herself lounging at her family home on Instagram, make up free and looking relaxed as she flaunted her flawless figure in a bikini, while hanging out with her mother Monica Fenty and best friend Melissa Forde.
Paris Jackson will have the chance to enjoy Christmas with her family. The daughter of the late Michael Jackson, Paris is currently staying at a $14,000 per month therapeutic private school in Utah, after a suicide attempt in June. She was temporarily released from the school and flew to Hawaii on Saturday to join her family for the holidays.
The teenager won't, however, return to her family home during the break because of fears she may not want to return to the school for troubled teens.
"The family doesn't want Paris to spend her entire winter break at home because they don't want her getting comfortable," a source told E! news.
"The family thinks Paris will try to talk her way into staying home after showing the family she's gotten better."
The Beckhams are planning a very traditional Christmas in their new family home in Kensington, which they reportedly bought for £30 million earlier this year. While David recently revealed he's something of a house husband these days, there's been no rest for pop singer turned fashion designer Victoria, who posted a picture of herself on Thursday with two mannequins in a fashion house saying: 'Last day of work before Christmas. Happy Christmas #VictoriaBeckhamteam'
Fuelling rumours that Khloe Kardashian and Matt Kemp have been secretly dating, it seems the baseball star will be spending Christmas eve with the Kardashians.
According to Radar Online, The Los Angeles Dodgers outfielder will be joining Khloe at her mother Kris Jenner's annual holiday party at the family's estate in Hidden Hills, California. "Khloe is still extremely sad about the end of her marriage to Lamar Odom, but she had moved on several months ago,' said a source.
"Expect Matt and Khloe to "exchange Christmas presents…he absolutely adores her and loves spoiling the women in his life."
Meanwhile, Keeping Up With The Kardashians star Kim Kardashian has revealed that Kanye West will be spending Christmas Day with her family.

"The entire family, Kanye, north, mom, sisters, step dad, brother, niece, nephew, everyone! they are all my family and we will all be together! I can't wait."
There's no word as to whether Kendall Jenner's rumoured boyfriend Harry Styles will be invited to join the Kardashian clan for the Christmas holidays, but it seems unlikely after Brody Jenner warned Harry against getting his heart-broken, claiming his half-sister was not serious about the relationship.
The One Direction heart-throb took to Twitter telling fans his Christmas plans largely revovled around catching up with his sleep.
He wrote: "I hope everyone has a lovely Christmas. Thank you for everything. I'm going to sleep for a while. Wake me up for dinner please. H .xx"
Fellow band-mate Niall Horan meanwhile, is having difficulty getting into the Christmas spirit after finding himself stranded along with thousands of Christmas travellers as storms continue to batter the UK.
The 20-year-old singer was planning to head back to his hometown of Mullingar in Ireland, to spend the festive season with his family, but is finding it difficult to get a flight from London, as flights are cancelled due to severe weather conditions.
Venting his frustration on Twitter he said: "@NiallOfficial: Well this is s***! Looks like we ain't goin home for Xmas! F*** you wind" Pint?"haha 110% goin for glush."
Even with their millions and their lavish lifestyles, it seems that, just like the rest of us, the A-listers want nothing more than to celebrate Christmas with family and friends.