Greco-Roman tombstone with painted false door discovered in Alexandria
An Egyptian team of archaeologists unearthed the tombstone, which was the most "distinguished" in a collection.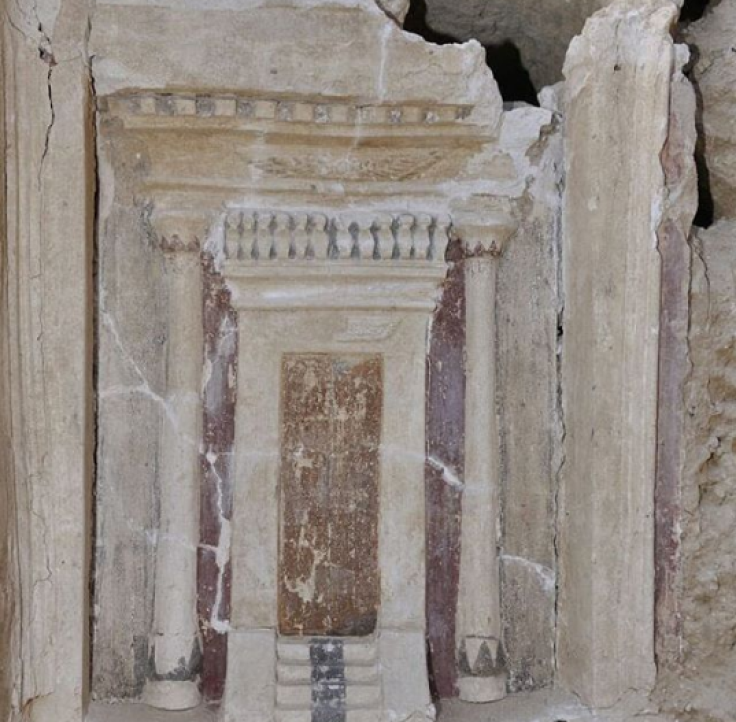 An Egyptian archaeological team have discovered a collection of tombs dating back to the Greco-Roman era. The new find was unearthed at the Al-Abd archaeological site in Alexandria and makes up part of a Hellenistic cemetery which is located on the city's sea shore.
The Ministry of Antiquities announced the discovery on Tuesday, 9 January, detailing the different types of artefacts found at the scene. Mostafa Waziri, secretary-general of the Supreme Council of Antiquities, said that they found numerous lamps decorated with scenes of ancient Egyptian and Greco-Roman deities along with vessels.
Waziri told Ahram Online, "But the most important item of this discovery is a very distinguished tombstone that was once used to close one of the cemetery's burial shafts."
The structure features a lime and sandstone facade of an ancient Egyptian temple, complete with two columns and a roof, along with a series of inscriptions. It also depicts a staircase leading to the entrance of the temple's entrance.
One of the two doors is depicted as being half-open and bears a winged sun-disk decoration.
Ibrahim Metwally, head of the Egyptian excavation mission, told Daily News Egypt that, aside from the inscriptions, the tombstone is of special significance owing to the portrayal of its false entrance. The temple door imagery may have been meant to mislead thieves looking to raid the burial site.
The use of false doors in tombs was a popular concept in ancient Egypt but was used for other purposes and not to trick thieves. According to Ancient Egypt Online, the false door was seen as a threshold between the mortal world and the spirit realm. The spirit of the tomb's occupant would be able to use the door to access the world of the living and accept offerings.
In some cases, tombs contained two false doors, one for the deceased and another for his wife. Others had multiple doors for various other relatives as well.
Typically, these doors were made of limestone, but in some cases, the imagery was simply painted on a flat piece of wood or directly on the wall.