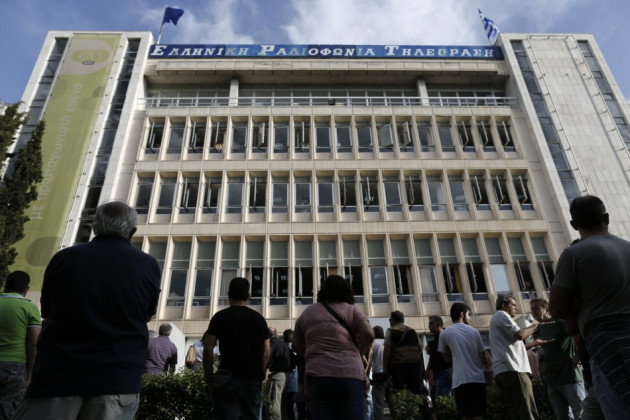 Crisis-hit Greece has shut down its official broadcaster to help meet bailout requirements as it cuts public service bills.
On Tuesday evening, the main TV channel of official broadcaster ERT presenting news turned black. The broadcaster is funded by a direct payment of €4.30 (£3.80/$6) added monthly to consumers' electricity bills. It operated three domestic TV channels, four national radio stations, along with regional radio stations and an external service, Voice of Greece.
The move aims at deep spending cuts and tax hikes to pull the country out of recession. Being the first country to be hit by the eurozone crisis, Greece has been promised more than €200bn as bailout aid from the European Union and the International Monetary Fund (IMF) since 2010.
As required by the lenders, the Greek government has imposed tough austerity measures to reduce public spending and increase revenues. In return for the bailout funds, Greece had to cut pay and pensions and made a large number of public jobs redundant.
As a condition for the country to receive its next tranche of bailout funds worth €8.8bn, the Greek parliament passed a bill which would result in 15,000 public job losses by the end of next year. This was the first time the government announcing mass layoffs in the public sector following the bill.
"ERT is a case of an exceptional lack of transparency and incredible extravagance. This ends now," government spokesman Simos Kedikoglou said.
All the 2,900 employees in ERT would be sacked, but they would be paid compensation and would be able to apply for job when the broadcaster will be reorganised as a smaller corporation.
Following the development, thousands of people held a protest against the government move outside ERT headquarters in Athens. The Athens Journalists' Union has announced a 48-hour strike on Wednesday on TV and radio stations to protest against the decision.