Greek Prime Minister Alexis Tsipras has relegated embattled Finance Minister Yanis Varoufakis in the team handling bailout talks with European and International Monetary Fund lenders.
An almost immediate reaction was a rally at the Athens stock exchange, where shares rose 4% while Greek bank shares jumped 9%. Greek two-year bond yields fell 250 basis points to a two-week low of 23.55% after the news, reversing an earlier rise.
An anti-austerity economist who has angered peers with his brash style, Varoufakis is facing calls to quit after returning from a meeting of eurozone finance ministers in Riga, Latvia, isolated and empty-handed while Athens scrambles to avoid bankruptcy.
Tsipras and senior aides publicly voiced support for Varoufakis at a meeting on Sunday 26 April and agreed the finance minister would supervise a new team negotiating a reforms deal with lenders, a government official said.
But Deputy Foreign Minister Euclid Tsakalotos - a close Tsipras ally and soft-spoken economist liked by officials representing creditors - was appointed co-ordinator of the group, the official said. This would elevate him from his current position and give him a more active role in the negotiations, pushing Varoufakis to the sidelines.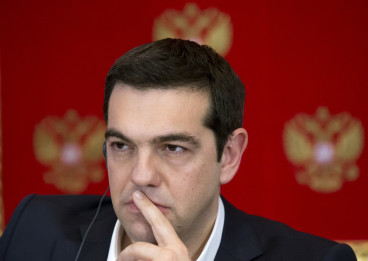 The opposition socialist Pasok party - which lost much of its support to the ruling radical Syriza party - said the government was "emasculating Mr Varoufakis . . . and attempting to send a message to the Europeans and the IMF indicating political will for an agreement".
Eurozone officials welcomed the reshuffle and the apparent effort to reduce Varoufakis' role in negotiations with them.
"The way he behaved made him an additional obstacle in the negotiations with Greece," said an official, who asked not to be identified. "By diminishing his role, from the main contact person to one of the persons, removes the obstacle. It has become almost personal for some in the Eurogroup."
Another eurozone official questioned whether the move would bring about the substantive change lenders have been demanding.
Varoufakis, who became an instant celebrity in the early days of the Tsipras government with his tie-less look and blunt attack on austerity policies, has seen his star wane in recent weeks and critics have called him a liability in the talks.
He has been taken to task by the Greek media for failing to appear at a state dinner after the Riga meeting. He responded by tweeting a quotation by former US president Franklin Roosevelt which read: "They are unanimous in their hate for me; and I welcome their hatred."