Greece has repaid €3.2bn (£2.3bn, $3.6bn) to the European Central Bank (ECB) after receiving the first portion of its bailout package from the European Stability Mechanism (ESM) on 20 August.
The first tranche of a total €86bn bailout fund, worth €26bn, will also go towards stabilising the country's banking sector.
Klaus Regling, managing director of the ESM, said: "Today's ESM disbursement will allow Greece to meet its urgent financial obligations to the International Monetary Fund and the European Central Bank, and other budgetary needs. I am relieved that after intense negotiations with the Greek government and approval by our members, all conditions are now in place to make this disbursement in time."
Greece's big four banks saw their share prices fall 30% as soon as the Athens Stock Exchange opened after a five week shut down. During the period, the Greek government imposed capital controls after millions of Greeks withdrew cash from banks, afraid their money would not be safe.
After all but two eurozone countries agreed to the bailout deal, all eyes were on the German and Dutch parliament, which still had to vote on the package. An impressive majority in the German Bundestag voted in favour of the financial aid, while Dutch Prime Minister Mark Rutte faced a backlash from parliament.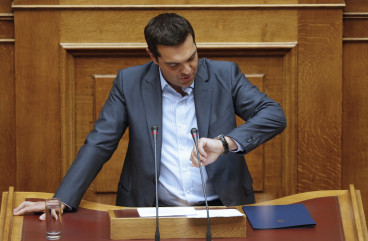 In his party's election campaign, Rutte had promised to send "not one cent to Greece", but his party VVD, which has a coalition government with Jeroen Dijsselbloem's left-winged PvdA, supported the deal in order to prevent a Grexit. The controversy resulted in a protracted debate before the Dutch parliament ultimately endorsed the bailout package.
Tsipras facing backlash
Greek Prime Minister Alexis Tsipras has faced rebellion in Greece as well. Members of parliament, including many from his own Syriza party, have criticised him for giving in too much to the ECB, the IMF and the eurozone.
The rebellion within Tsipras' Syriza party has led observers to believe a snap election could take place. Greek English language newspaper Kathimerini said it has heard "one set of advisers is urging the prime minister to move swiftly and call a ballot for September 20 or 27 at the latest so the government can overcome the internal rift that has opened up within Syriza".
The newspaper added that other advisers told Tsipras to set 11 October as a deadline for elections, allowing the current government to deal with the implementations of the bailout. The backlash comes amid criticism that the conditions of the bailout deal are severe for Greece, which has been forced to streamline its VAT system, work on the liberalisation of the labour market and improve the Greek pension system for long-term sustainability.