Eurozone leaders believe that a deal can be struck within days to stop Greece defaulting on its massive debt.
Athens has until 30 June to repay a €1.6bn (£1.1bn) International Monetary Fund (IMF) loan and has threatened not to do so unless an agreement can be reached on a cash-for-reforms deal. No deal means that Greece will exit the euro - a Grexit.
German Chancellor Angela Merkel said new proposals offered by Greece constituted "some progress". But she said more work was needed and "time is short".
Greece's economy minister George Stathakis outlined new taxes on businesses and the wealthy that he hoped would break a deadlock with creditors. Athens has also agreed to raise the retirement age to 67 and said it will raise VAT to 23%.
Eurozone leaders reacted with cautious optimism to the Greek proposal, presented at a summit in Brussels 22 June.
Merkel said that everyone taking part wanted Greece to stay in the eurozone, "myself included".
"The proposals offered by Greece today constitute some progress. However, it became clear during our discussions that there is a lot of work to be done and time is short. And therefore we need to work with full concentration," she said.
French President François Hollande, who also attended the talks, said Greece and its creditors were "moving towards an accord", but there was "still work to be done" for a solution to be "in sight".
A positive step
European Council President Donald Tusk described the new Greek proposals as "a positive step".
"Prime minister Tsipras has assured us of Greece's seriousness and willingness to work constructively," he said.
"As the last hours have shown we can see all parties fully committed to finding a solution. The new Greek proposals to the three institutions are a positive step forward according to the initial assessment of the institutions. They will be further assessed over the coming hours."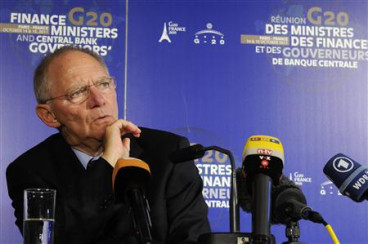 Almost €4.2bn has been withdrawn from Greek banks over the past week, which caused the European Central Bank to extend its emergency liquidity assistance to Greece.
Greek citizens have taken to the streets in massive protests against austerity but Tsipras proposed limited austerity measures in return for extended repayment deadlines and financial aid from the country's creditors.
Although the new proposals sparked optimism, not all finance ministers remained positive. German Finance Minister Wolfgang Schäuble said the proposal did not add anything new.
He said in a press conference: "There is nothing new beyond many trying to create expectations which are not supported by substance. Without substantial proposals which can be examined seriously, we can't seriously prepare a euro summit."