The whole eurozone could be adversely affected unless a settlement can be reached at next week's Brussels summit dealing with Greece's debt crisis, the country's most important banking figure has warned.
Over the past few days many Greeks have rushed to withdraw all their savings from banks as fears increase that the economy is on the verge of collapse.
Louka Katseli, chair of the National Bank of Greece, says that while in the short term Greek banks will not run out of money, the long-term impact could mean other weak Eurozone members being "attacked" by the markets in a domino effect that would have severe consequences for all involved.
Speaking to BBC Radio 4's "World This Weekend", Katseli voiced confidence that this situation would not arise because a deal would be reached at the summit as "the cost for the eurozone, which they are down-playing, is really serious".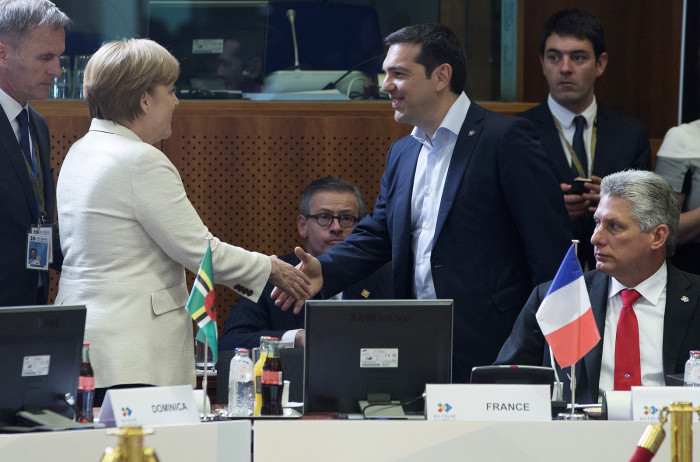 "If the markets decided the eurozone is not an irrevocable decision and a government can be declared insolvent, then the first thing that would happen is that there will be a speculative attack by the markets on the next weakest participant in the eurozone or the euro," said Katseli.
Greece has until the end of June to make a €1.6bn (£1.1bn) loan repayment to the International Monetary Fund (IMF) or face being ejected from the eurozone – and possibly the EU. However, Katseli said that was unlikely to happen.
"I think sanity will prevail and an agreement will be made," she said, "because I really cannot see any reason why our partners and creditors and the Greek government cannot forge an agreement [because] to enter into such uncharted waters and take up all the risk both for the eurozone and for Greece for two or three billion differences. I think is insane."
Representatives for the 19 members of the eurozone, including Greek Prime Minister Alexis Tsipras, will meet in Brussels tomorrow (22 June) in an attempt to resolve the crisis.
Tsipras's office revealed he has already proposed a way to break the deadlock in a phone call to German Chancellor Angela Merkel, French President Francois Hollande and EU Commission President Jean-Claude Juncker.
In a statement, his office said: "The prime minister presented the three leaders with Greece's proposal for a mutually beneficial agreement that will give a definitive solution and not postpone addressing the problem."