The 29-year-old Briton who set up an IndieGoGo crowdfunding campaign aiming to bailout Greece said he still hopes to raise the €1.6bn (£1.14bn, $1.78bn) needed before before the bailout referendum on 6 July.
Thom Feeney, who launched the IndieGoGo page on the night of 28 June, told IBTimes UK: "Although the European politicians and the IMF would not extend the deadline, it's good to know that the IndieGoGo page still has a few more days to run."
Although the campaign has raised only 0.05% of the total target in the last couple of days, the fact that almost €800,000 has been pledged so far is impressive. Most donations have come from Germany, according to the founder of the campaign.
"I really hope we could still reach the target and then 100% of the money will go to the Greek people. That would be around the same time of the referendum so I think they would be the ones to decide what happens to that money," Feeney said.
In the spirit of 'For the people, by the people', Feeney said that it is important to fight against austerity, and stand together for the Greek people.
After the campaign took off on Tuesday 30 June, Feeney has received thousands of emails and his Twitter feed has been booming.
He said: "I've just been absolutely overwhelmed. I always thought it was possible, because in real terms, we only need a small amount of money from a large amount of people, but actually seeing those numbers tick onwards and upwards was particularly emotional and it just shows how much people care about other ordinary people around the world."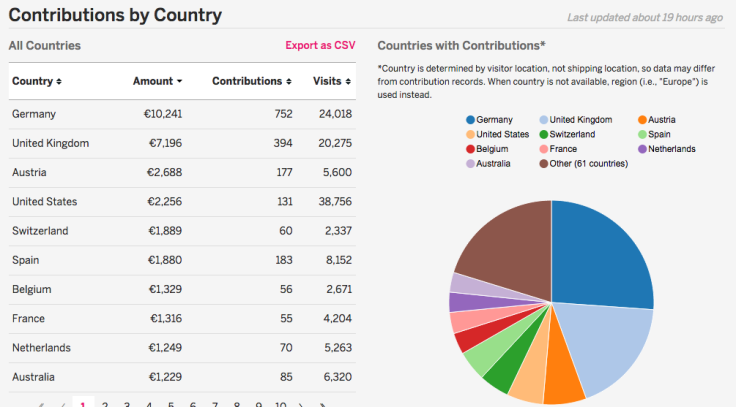 Feeney, who works in a shoe shop in London, has offered a set of interesting perks for donating money, such as Greek olive oil and a postcard from Alexis Tsipras. The perks and the obviously unique idea behind the campaign has led people to believe it is a joke, but Feeney repeatedly confirmed he was totally serious about the campaign.
"I've always wanted to campaign and this has only reinforced that. I might do another crowdfunding project in the future after this success."
Over 7,960 doners have already claimed a postcard from Tsipras by donating €3, and 5,200 said they want to receive a bottle of Ouzo after pledging €10. In total, more than 46,500 people from all over the world have donated an average of almost €17 each.
IBTimes UK is still waiting on a comment from the Greek government.