Greek debt crisis: Prime Minister Alexis Tsipras to present new plan at Eurozone summit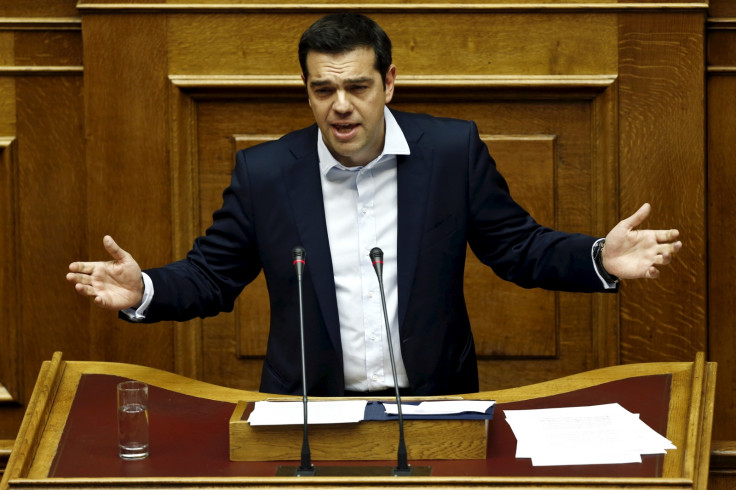 Greek Prime Minister Alexis Tsipras is expected to propose a new plan at the Eurozone emergency summit today (7 July) which includes substantial debt relief.
The proposals are said to include a demand for Greece's debt to be cut by up to 30% after Greek voters rejected the terms of an international bailout in a referendum held on Sunday, the BBC said.
Eurozone finance ministers will commence their meeting in Brussels today before a full summit of Eurozone leaders.
Greek banks are expected to remain closed today and on Wednesday.
The BBC said that although Tsipras may be prepared to accept many of the demands made by the country's creditors, he is also seeking changes and substantial debt relief, especially after Greek voters backed him in the referendum by rejecting the terms of the bailout agreement.
The request for writing off some of the debts however may face stiff resistance from Germany, which has already warned against such a move, saying that it would affect the single currency.
"I really hope that the Greek government – if it wants to enter negotiations again – will accept that the other 18 member states of the euro can't just go along with an unconditional haircut [debt-write-off]," said German Economy Minister Sigmar Gabriel.
US Treasury Secretary Jack Lew has already spoken with both Tsipras and the newly appointed Finance Minister Euclid Tsakalotos, saying that Washington looked forward to Athens and other parties resuming talks towards resolving the situation.
Japan's Economic Minister Akira Amari said both Greece and the European Union should work hard to strike a win-win dealt that would keep Greece in the currency union.
"I understand why the Greek people are venting their frustration. Fiscal consolidation is not making progress. They are in deflation. The world expects Greece and the EU to cooperate on a final bailout plan," he told reporters, according to Reuters.
Meanwhile a member of the European Central Bank's governing council Ewald Nowotny has said that bridge funding is a possibility while a new bailout programme is being negotiated between Greece and its creditors.
In an interview with BBC, Greek Economy Minister Giorgos Stathakis said the government wants a 30% reduction in its debt burden as per the International Monetary Fund's debt sustainability analysis last week. This can be down either through direct write-offs, or through the lengthening of the repayment term.
He also highlighted that Tsipras had sent a letter to creditors last week before the referendum in which he accepted most of their proposals for spending cuts, tax rises and structural economic reforms, with relative modest changes to the nature of the proposed pension cuts.
Stathakis said the ECB must keep Greek banks going for a week to 10 days to allow talks between Athens and its creditors, Eurozone governments and the IMF to proceed.
In a best case scenario, he said the ECB could provide an additional €3bn (£2.12bn, $3.31bn) in Emergency Liquidity Assistance (ELA) but noted that even with the ELA at the current level, Greek banks can continue to function without collapsing if current cash withdrawals and transfer restrictions remain in place until Friday.
© Copyright IBTimes 2023. All rights reserved.