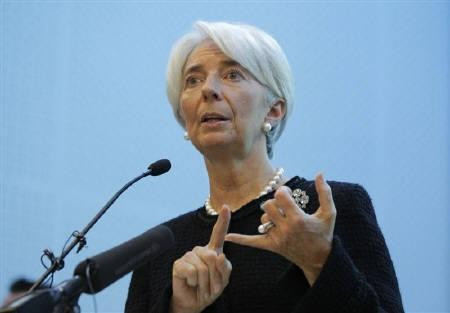 The head of the International Monetary Fund (IMF) has said it is payback time for Greece and that she is more concerned about the poverty-stricken children in Sub-Saharan Africa than those facing poverty in Greece.
Christine Lagarde, the IMF chief made the comments which many Greeks may not relish, during an interview to the Guardian newspaper.
Lagarde was of the opinion that Greeks have to pay their taxes and if children are being affected by the austerity measures, it would be the sole responsibility of Greek parents.
"I think more of the little kids from a school in a little village in Niger who get teaching two hours a day, sharing one chair for three of them, and who are very keen to get an education. I have them in my mind all the time. Because I think they need even more help," Lagarde told the Guardian.
"As far as Athens is concerned, I also think about all those people who are trying to escape tax all the time. All these people in Greece who are trying to escape tax," she said.
Greece is going for new elections on 17 June since the major parties failed to form a coalition government which supports the austerity measures it had committed itself to in order to obtain the EU/IMF bailout fund.
Chances of Greece's exit from the single currency region would be high if the country failed to agree to the bailout conditions even after the new polls.
Though European leaders are reiterating their wish for Greece to remain in the eurozone, they want strict commitments from it to comply with the bailout criteria.
"We want Greece to stay in the euro, but we insist that Greece sticks to commitments that it has agreed to," said German Chancellor Angela Merkel earlier after a meeting in Brussels among EU leaders.
Meanwhile, there were reports of informal meetings for making arrangements for a possible "Grexit", in case the country fails to comply with the spending cuts.
As of now all eyes are on the 17 June poll results that would be a major factor in deciding the future of Greece in the eurozone.