Greens consider not fighting Richmond Park by-election in bid to defeat Zac Goldsmith
Liberal Democrats are best placed to beat the former Conservative MP at the election.
The Greens are considering not contesting the Richmond Park by-election in bid a to defeat Zac Goldsmith, a party source has told IBTimes UK. The environmentalists could give the Liberal Democrats, who came second in the west London seat at the general election, a free run.
The decision over whether to field a candidate will be decided by local activists rather than Green leaders Caroline Lucas and Jonathan Bartley.
"Jonathan and Caroline are longstanding advocates of progressives working together to beat the Conservative, and they welcome the news that Labour is now having these discussion too," a Green spokesperson said.
"This by-election could be a real chance to reduce the Conservative majority in Parliament, and replace a candidate disgraced by his racist campaign to be Mayor of London."
The party secured a fourth place and 6% of the vote last May, while they only won 1% of the vote and a fifth place at the 2010 general election.
Labour confirmed it will contest the by-election yesterday, despite shadow minister Clive Lewis, Lisa Nandy and Jonathan Reynolds warning against the move.
The vote was triggered after Goldsmith quit the House of Commons in protest over the government's decision to back a third runway at Heathrow Airport.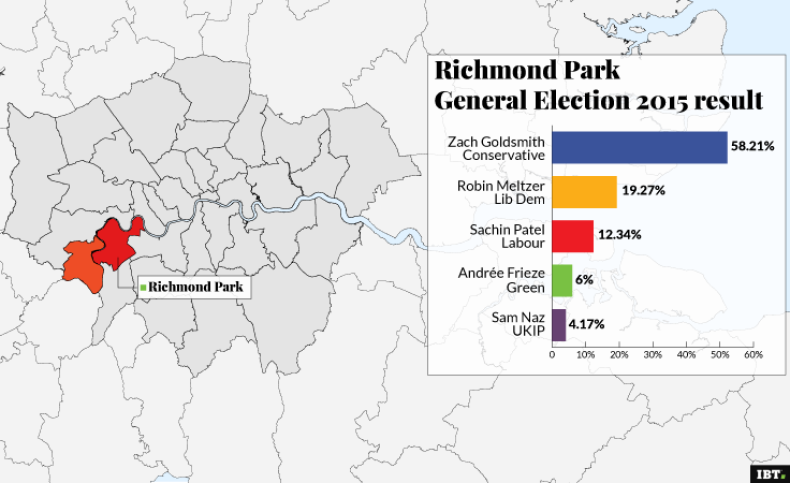 The former Tory MP will stand as an independent, while the Conservatives have decided not to field a candidate.
Goldsmith's hopes of turning the by-election into a referendum on Heathrow could backfire since the Liberal Democrats also oppose the expansion.
Baroness Susan Kramer told IBTimes UK that the pro-EU party would focus on Goldsmith's Euroscepticism after a majority of the Richmond-upon-Thames electorate backed a Remain vote at the referendum (75,396 to 33,410).
"We are not split like the others parties and our people don't get rolled over like the other parties. So it's going to be a big fight," she said.
"There will be many other issues locally. People won't have missed that Zac is a dedicated hard Brexiteer, but the majority of people in our local area frankly are not."
The Greens also have a pro-EU, anti-Heathrow expansion stance.