Victims of the Grenfell Tower fire have threatened to boycott the public inquiry into the disaster unless its scope is widened.
Under current proposals, the inquiry is set to only look at the events of 14 June – such as how the blaze began and why it spread so quickly – but some are calling for more factors to be considered with the thought that the underlying cause of the tragedy may lie therein.
Yvette Williams, an organiser within the Justice4Grenfell campaign group, said that survivors and families of the victims are "very, very angry" and want the "systemic issues" surrounding the fire to be considered as part of the inquiry.
She told Sky News: "They cannot just look at 14 June, when that building became an inferno. They can't do that.
"If we don't get good terms of reference for the public inquiry and we don't get a wide remit so that those people can take responsibility for what they've done, then we won't participate in it."
The development comes amid reports that firefighters have been gagged from sharing the true death toll from the disaster – which has also been a point of anger for residents – with sources telling the Sunday Mirror that the official figure of 80 will soar into three figures.
One firefighter told the newspaper that management have warned staff not to publicly share any details from the blaze for fear that it could obstruct the investigation, but some have claimed it was a ploy to manage public anger.
Similar calls for widening the scope of the inquiry were also made by Labour leader Jeremy Corbyn.
On Friday (30 June), he wrote a letter to Prime Minister Theresa May urging her to consider a two-part inquiry – one surrounding the events of the day and the other focussing on the broader and underlying issues.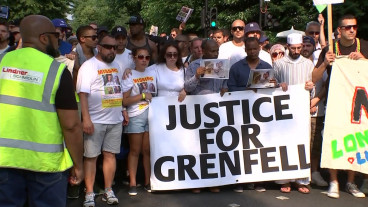 "While the detail of the specific failures at Grenfell needs to be uncovered," he wrote, "it is also clear that the Grenfell fire has much wider implications for national policy issues – ranging from but not limited to building regulations and enforcement, housing allocation policy, the funding of local councils, housing associations and the fire service, the sub-contracting of maintenance and planning and the support and services that are provided to individuals after such an incident occurs.
"An inquiry with narrow terms of reference risks failing to learn all the lessons of this tragedy.
"Both residents and the country as a whole would be better served by a two-part inquiry, with the first part looking at the specific issues around Grenfell and reporting back quickly and the second part looking at the national issues.
"This would allow both the national and the specifics of Grenfell to be adequately addressed."
Read Corbyn's letter in full: