Survivors of the Grenfell Tower fire in west London have spoken about their terrifying escape as a huge fire gutted the 24-storey apartment block, leaving at least six dead and more than 50 in hospital.
Hundreds of people were asleep when the fire broke out in the early hours of Wednesday (14 June). They were awoken by the sounds of people screaming "fire! fire!" and people rushing to escape the burning building.
Over nine hours after the blaze started, firefighters are still trying to contain the flames. Those who managed to get out in time say they are "lucky to be alive."
One man was only alerted to what was happening when fire engines started arriving outside.
He said that he hadn't heard any fire alarms go off and only realised how serious the incident was when he looked out of his window on the 17th floor and saw "the fire blazing, and coming up really fast, because of the cladding – the cladding was really flammable, and it just caught up like a matchstick."
He guided his 68-year-old aunt through thick smoke to the exit and out of the building, but said he feared that people who waited longer would not be able to get out.
One woman tweeted at 2:18am that she was stuck in the tower block and afraid to leave her flat as she thought she would "die from the smoke." People on Twitter urged her to ring 999 and cover her door with wet blankets. An hour later the woman tweeted again that she was still trapped in the building and could see people jumping out of the window.
At 4am the woman said that she had managed to escape and was safe.
David Benjamin and his girlfriend decided to stay inside their fourth floor flat when they first heard about the fire as they thought it would be safer. But they decided to flee when a neighbour told them to get out immediately.
"We put on our trainers and went outside and saw people running, there was thick smoke. Our neighbour said to get out so we rushed out and rushed down the stairs," Benjamin told the BBC.
Siar Naqshabandi, who lives on the third floor, was horrified to find his block of flats on fire when he returned home. He called his brother, who lives with him, and immediately told him to leave. He has more family living on the 23rd floor and his uncle is still missing.
"They were telling people not to leave the building," he told The Guardian."I told them to get down. They said we're not allowed to get out."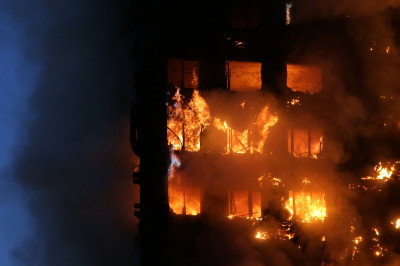 Eyewitnesses watched on in horror as the flames engulfed the entire tower block and people living on the top floors held their children out of the windows in a desperate attempt to save them from the blaze.
"I watched one person falling out, I watched another woman holding her baby out the window... hearing screams," eyewitness Jody Martin told the BBC.
"I was yelling at everyone to get down and they were saying 'We can't leave our apartments, the smoke is too bad on the corridors," she said.
Samira Lamrani saw a woman throw her baby from the ninth floor as the flames rose up the building. Miraculously a man managed to catch the infant.
"The windows were slightly ajar, a woman was gesturing that she was about to throw her baby and if somebody could catch her baby," Lamrani told the Press Association. "Somebody did, a gentleman ran forward and managed to grab the baby."
The Metropolitan Police have set up an emergency number on 0800 0961 233 for anyone concerned about friends or family.