Grexit: Athens given absolutely last chance to agree a bailout deal or it defaults on €1.6bn loan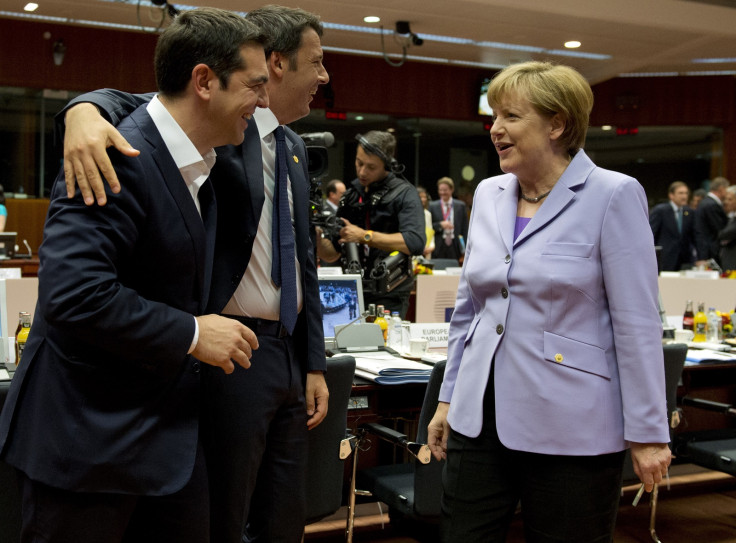 Greece has been given an absolutely last chance to do a deal with its creditors by 27 June or face default on a €1.6bn (£1.13bn, $1.8bn) loan to the IMF.
As Greek, its 17 euro currency partners and creditors failed to reach an agreement in Brussels on 25 June, EU finance ministers were already preparing to protect the euro zone from market meltdown.
Athens has to reach a cash-for-reform agreement with the IMF, the European Central Bank and European Commission before it can unlock €7.2bn in badly needed funds. Greece has already said it cannot pay back the €1.6bn it owes the IMF by the 30 June deadline.
And the omens were not good for any further progress. German Chancellor Angela Merkel said Greek positions on some issues seemed even to have gone into reverse. "In some areas, you have the impression that we have even gone backwards a bit," Ms Merkel said as she arrived for a Brussels summit of all 28 EU leaders.
According to Reuters, she told centre-right allies in the European Parliament that Berlin wanted a solution but would not be "blackmailed" by Greece.
"There is no convergence, there is absolutely no convergence," one senior eurozone official told the Financial Times. "It is looking bleak."
"The door is still open for the Greek side to come with new proposals or accept what is on the table," Eurogroup chairman Jeroen Dijsselbloem told reporters before briefing European Union leaders on the impasse.
Time to discuss Plan B
Greek Prime Minister Alexis Tsipras has been trying to persuade fellow EU leaders to take responsibility and not leave his country's fate in the hands of the International Monetary Fund. However, an official told Reuters that the leaders declined to get involved, saying it was down to finance ministers to reach a deal.
"The climate is that either by [27 June] Greece accepts or... there will be a discussion about Plan B," a eurozone official at the summit said, referring to measures that would be needed in the case of a default to prevent a Greek bank collapse and limit any market contagion to other euro area countries.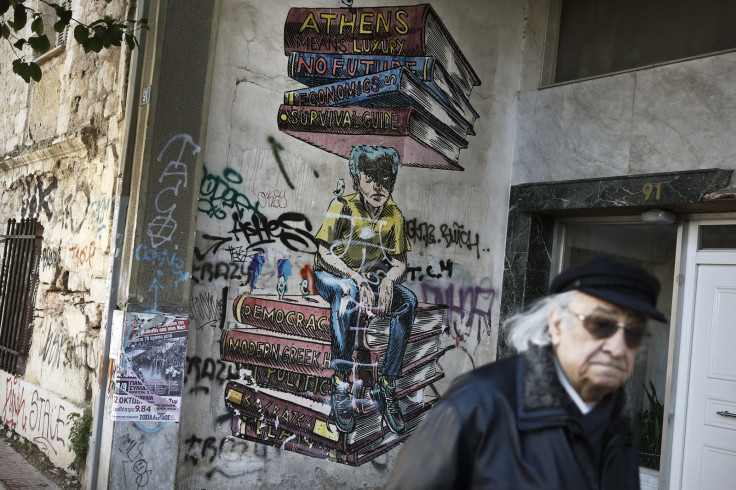 A man walks past graffiti in Athens
Reuters
Greek Finance Minister Yanis Varoufakis, however, played down the crisis, telling reporters: "The institutions are going to look again at the two documents - our documents and their own. There will be discussions with the Greek government and we'll continue until we find a solution."
A failure to reach a deal could trigger a bank run and capital controls, possibly leading to a Grexit.
Tsipras demanded from the creditors an immediate commitment to debt relief for Greece, officials said. However, this was rebuffed with officials saying Greece had to adopt and implement economic reforms promised under its existing bailout programme.
But Greek politicians in Tsipras's Syriza party flatly rejected anymore tinkering.
"The lenders' demand to bring annihilating measures back to the table shows that the blackmail against Greece is reaching a climax," Nikos Filis, Syriza's parliamentary spokesman, told Mega TV.
Labour Minister Panos Skourletis told state broadcaster ERT: "There cannot be a deal without a substantial reference and specific steps on the issue of debt."
"The lenders' hard core faction does not want a deal but a rift, Greece's humiliation and the fall of the Tsipras government," Dimitris Papadimoulis, a Syriza member of the European parliament, tweeted. "It won't get its way."
© Copyright IBTimes 2023. All rights reserved.