There is nothing more painful than spending Christmas without the person you love the most. Sky Sports presenter Simon Thomas has shared a heartbreaking letter written by his son, Ethan to Santa Claus with a demand that neither Thomas nor Father Christmas can fulfil.
In his emotional letter, the eight-year-old boy has asked Santa to bring him three gifts including his late mummy. While filling the letter with his wishes he wrote: "The three things I would like most this Christmas are: Playmobil, Lego... and mummy back."
The emotional letter was shared by 44-year-old Thomas on his Instagram. He captioned the image with: "I just wish I could give him the third." The family was left devastated after his wife, Gemma Thomas, 40, died last month just four days after being diagnosed with acute myeloid leukaemia.
The letter has touched hearts of many social media users who sent their love for the young boy. "Bless him. I so wish his third wanted gift could come true. It breaks my heart. You have each other now so stay strong. The next few days will be the hardest but you are amazing and will get through them. You are in my prayers will be thinking of you both," one Instagram user wrote.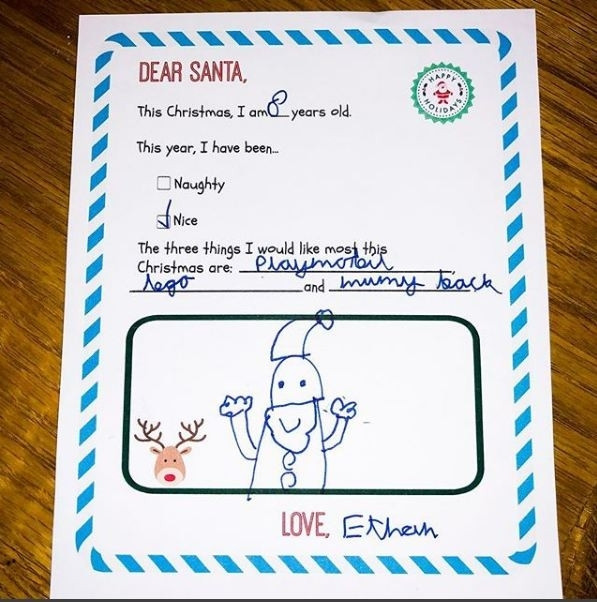 "So so Utterly Heartbreaking thoughts are with you both and Family! Christmas is a time for families but with it brings so much Heartache," said another. Some cheered the father for his continuous effort to bring cheers to Ethan.
"Dear Simon, Your beautiful family have been in our thoughts and prayers every day. No one can ever imagine your loss and your son's loss unless they have been through exactly the same as yourself and your son. I can't imagine how you are able to just do Day to day things when your loss is so great. Sending you all our support and if there is anything we can do we are all here for you," one of his fans wrote.
In another heart-wrenching post, Thomas gushed about his son Ethan's huge heart. He shared the photo of his late wife's wedding ring and captioned it saying: "Her wedding rings are back with me. I showed them to Ethan this morning and he said - 'Daddy, when I get married, can I give them to my wife.' His heart is beyond measure #lightinthedarkness".
Internet users were floored by the boy's love for his mother and the show host and his late wife were hailed for raising his son with so much of love. "What a lovely son you both have raised," said one. "That's so lovely and how lucky a lady will she be....big hugs," added another. "For a boy so young amazing for him to think like that for the future. His mum will be looking down so proud and whoever gets this ring in the future what a special moment," wrote a third one.