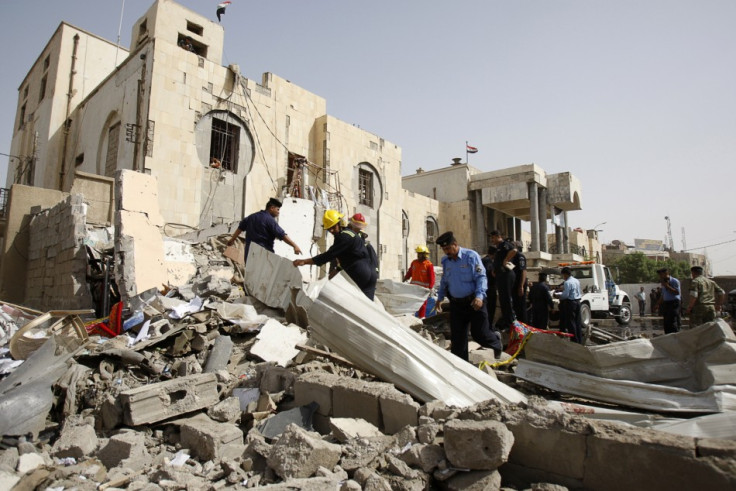 On Tuesday, armed men stormed the provincial council in Baqubah, the capital of Diyala province, killing at least eight people in the latest assault on government buildings in Sunni parts of Iraq.
According to state television, following the morning attack in the eastern province, it reportedly took nearly two hours for the army and police personnel to gain back control of the council building
Officials said that at about 9 a.m., at least one suicide bomber blew himself up by the heavily guarded entrance of the Diyala provincial council building, which is surrounded by giant concrete blast walls. Within minutes, a car bomb exploded and armed gunmen charged into the building, police said.
Describing the scene officials affirmed that gunfire could be heard from the building, which was quickly surrounded by Iraqi security forces.
"Some other suicide bombers were killed by the security forces," a national police officer said on condition of anonymity.
One of the attackers, who made it into the building, allegedly killed three civilians inside the reception area before he was wounded by security forces.
An Iraqi employee, Ibrahim al-Sahmkhani, told the press, as he spoke from a nearby hospital, he was in his room with some guests drinking tea when he heard explosions followed by gunshots.
"When I looked through the windows of my office, I saw two people carrying rifles," he said. "The men were running toward a building when a guard in a tower opened fire. One man fell down and the other blew himself up."
"There was a loud explosion and the windows of my office smashed, and immediately I took cover," he said.
"About 15 minutes later, a policeman entered the room and told employees to flee as the building was under attack" he said before describing how while bullets were flying overhead, they made their way to the front of the building, where they saw a dead employee lying in a pool of his own blood and finally managed to escape from the compound.
Television footage obtained by The Associated Press from a local TV station showed at least three dead bodies on the blood-stained ground of the building's reception office.
In a statement issued after the attack, the U.S. military said it helped Iraqi forces by offering helicopter support.
Meanwhile, the spokesman for Iraq's defence ministry, Gen. Mohammed al-Askari, told state TV that four militants entered the yard; three of them were killed and one managed to make it into the building.
The details of the attack, which are still emerging, mirror an assault in March on the provincial council building in neighbouring Salahuddin province. That assault killed more than 50 people. Such attacks have also been common in western Anbar province as armed groups seek to exert their influence once more in Sunni regions that have grown more stable since 2007, when U.S. forces increased their troop numbers as part of their surge campaign.
As the UK troops have withdrawn and the US troops have started to pull out of the territory, and following the announce on Monday by the U.S military that two American soldiers were killed in southern Iraq, there has been growing fears that the country is still unsafe and that years of intervention have not managed to produce strong state capacities and institutions. The territory is still divided as various political groups still fight for power and violence is more than sporadic. There are still millions of internally displaced people (IDPs) within the country, most of whom with no assistance or legal right to the properties they occupy.
Responding to increasing concern in the US that the situation is spiralling out of control, Iraqi politicians have accused armed groups of taking advantage of a long-standing feud that opposes the leading government blocs of Prime Minister Nouri Maliki, a religious Shiite, to Iyad Allawi, a secular politician. Last week, as people gathered at rally sponsored by the government, pro Maliki supporters cheered the Prime Minister and waved posters of Allawi with a red X slashed across his face.
"These repeated attacks are showing a continuing decline in the security situation. It should ring the bell, and the government should try to do something but is doing nothing," said parliament member Mahmoud Othman. "There is no law and order. This country is in a disaster."
"The aim of such an attack is to create more chaos and to hinder any attempts to push the country forward," said Abdullah Hassan, a member of the provincial council .
No special group has for now claimed responsibility for the attack, but many have already made linked to a possible Al-Qaeda mission, which however rather seems unlikely.
According to various studies of the country, the greatest potential threat to Iraq's stability is not extremist groups but rather the prospect of an Arab-Kurdish conflict over oil-rich Kirkuk and other disputed territories.
As 2010 drew to a close, Iraq formed its second democratically elected government since the adoption of the Constitution in 2005. It was a year of change and transition, with the March 2010 national elections resulting in heavy turnover in the Iraqi Parliament.
However a year later the new government has not yet managed to lessen the persistent divisions within Iraqi society and it will probably take many years to achieve a united country, proving that despite hard won gains in stability, the conflict in Iraq is not over. Despite foreign involvement, state building cannot take place in the space of just ten years, and maybe the most important is for Iraqis voices and visions not to be lost in any more violence.