A growing number of Britons are finding new sexual partners when on holidays, with one in 10 men and one in 20 women admitting they have had sex with at least one new partner from outside the UK when overseas. While a majority are young men and women or teenagers, a significant number of people aged over 35 are also indulging in one-night stands when travelling to other countries, two new research reports claim.
The reports published in the online journal Sexually Transmitted Infections warns that this sexual behaviour is on the rise and that it threatens to increase the risk of sexually transmitted infections as many of the respondents reported inconsistent or absolutely no use of condoms while having sex with strangers. The one-night stand cases also reported "potentially harmful health behaviours, including drug and alcohol use."
The first study, carried out between 2010 and 2012, showed that of more than 15,000 Britons between the age group of 16 and 74, 12,530 people had at least one sexual partner within the preceding five years. Of these, about 72% of the men and 58.5% of the women established sexual relations with at least one stranger while travelling overseas. The figures for people aged 35 and more were one in 20 men and one in 40 women. The study claimed that the figures for the over 35 category is likely to rise in the coming years "with the increase in 'healthy ageing' and partnership break-down." The second study showed that Britons as well as Swedes were the most likely among other European nationals to report unsafe sex during the one-night stand instances.
The first study was part of the third British National Survey of Sexual Attitudes & Lifestyles (Natsal-3). It also showed that men over 35 were more likely than younger men to pay for sex during a tour abroad. About 37% older men surveyed reported having paid for sex, compared to 19% of the younger men. In total, one in four men who reported having acquired a new non-UK partner said they had paid for sex within the past five years.
The second study covered 2013 backpackers who visited the Thai islands of Koh Phangan and Koh Tao in 2013 and found that almost two thirds of all the respondents or 61.5% were travelling alone without a long-term sexual partner. Of the total respondents, 39% admitted to having sex with a new partner — mostly with other backpackers from other nations — during their trip. Men were reportedly more likely than women to involve in sex with a local person, the study showed.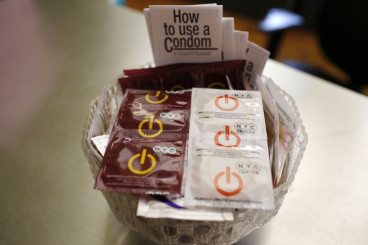 The researchers said that Germans were less likely than Brits to engage in unsafe sex and acquire new partners. Canadians, on the other hand, were most likely to report a new sexual partner and also more likely to use protection. They warned that travellers from Britain and Sweden that have "some of the highest reported rates of Chlamydia [a sexually transmitted disease] in Europe" were among the 37% who reported no or inconsistent use of condoms.
With many of the respondents in the first study saying that they have been tested for HIV and have acquired a sexually transmitted disease in the past five years, researchers called for "holistic travel advice" for travellers that will include advising them on sex in the context of broader health behaviours. The researchers suggested that older people should also be included in the travel advice.
"In an era of growing antibiotic resistance and continuing HIV transmission, targeting unsafe sex in backpackers has the potential to reduce STI [sexually transmitted infection] incidence internationally," the researchers concluded.