Guatemalan President Otto Perez Molina, who was handed an arrest warrant and faces corruption charges for an alleged multimillion dollar fraud scheme, submitted his resignation at midnight local time, the AFP reported, quoting his spokesman.
The news of Perez's arrest warrant, announced by Guatemala's attorney general's office on 3 September comes less than a day after Guatemala's Congress voted unanimously to strip the president of immunity from prosecution and banned him from leaving the country. The vote paved the way for prosecutors to charge the 64-year-old in an unprecedented graft (corruption) scandal that has gutted his cabinet.
Attorney: 'There will be a conviction'
The president, a retired general who was elected on a promise to combat crime and corruption, faces accusations of illicit association, fraud and receiving bribe money in a customs fraud scandal.
The scam was dubbed La Linea (the line), a phone hotline used in the scandal, that has already sent vice president, Roxana Baldetti, to jail, and pushed at least seven Cabinet members to resign – with some leaving the country, according to AFP. Baldetti was charged with taking a 50% cut on the bribes, for a total of some $3.8m (£2.49m) between May 2014 and April 2015.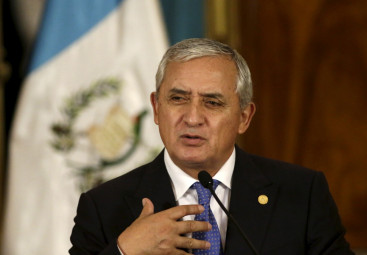 "There's a criminal case and we will go to trial and then a verdict. In my opinion and based on what I know of the case, it will have to be a conviction," attorney general Thelma Aldana the told AFP.
"At this time we have complete freedom to investigate whatever line of inquiry we deem pertinent in the president's case."
He has repeatedly denied any wrongdoing and, on 23 August, said he would not resign over the scandal.
Scandal sends thousands in the streets
The controversy has sent thousands of protesters onto the streets – just days before a presidential election, due to take place on 6 September. According to the constitution, Perez cannot run for re-election and was set to remain in office until a handover in January.
On 31 August, the Guatemalan bishops' conference called for Perez to step down. "Unfortunately it is evident and regrettable that large sectors of the population no longer have confidence in the president," the bishops said in statement on 27 August signed by the conference president, Bishop Rodolfo Valenzuela Nunez of Vera Paz, and secretary-general, Bishop Domingo Buezo Leiva of Izabal.
"The cases of corruption involve various collaborators; the accusations against him, the resignation of members of his Cabinet have made him lose leadership and [lose] solid backing that guarantees he can continue with his mission of governing," the letter continued. "For the love of the truth and our responsibility to promote peace, we think the president should reflect in his conscience on his decision not to resign."