Femicide protests: How prevalent is violence against women in Argentina?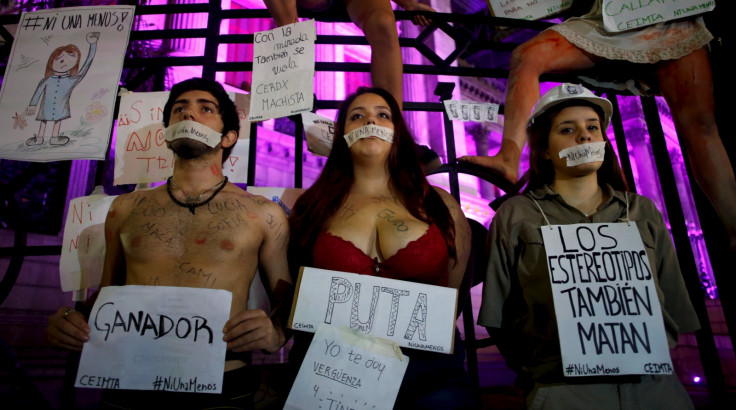 The body of 14-year-old Chiara Paez was found underneath her boyfriend's home in the Argentine city of Rufino in May. She was beaten to death and buried after he discovered she was pregnant. One month earlier, the estranged husband of Maria Eugenia Lanzetti, a 44-year-old pre-school teacher in the province of Cordoba, burst into her classroom and slit her throat in front of her pupils.
These recent, high-profile cases of femicide have sparked widespread protests across Argentina. Thousands marched with banners and posters emblazoned with "ni una menos" – not one less – in a rallying call to end gender-based violence. And while at first glance the murders of Paez and Lanzetti appear to be unrelated, yet no less tragic, this is simply not the case.
Around 1,800 women were murdered in Argentina because of their gender between 2008 and 2014 according to La Casa del Encuentro, a women's rights organisation in Buenos Aires. There were 77 femicides in 2014 alone, the group reported. A pattern is emerging and these cases are not separate – Argentina is experiencing an epidemic.
Femicide, defined by feminist Diana Russell as the murder of women because they are women, is a global problem. According to preliminary findings of a World Health Organization study with the London School of Hygiene and Tropical Medicine, more than 35% of all murders of females worldwide are reported to be committed by an intimate partner – known as intimate femicide –which is fuelled by misogyny and inequality.
By comparison, the same study estimated only 5% of all murders of men are committed by an intimate partner. Both Paez and Lanzetti became victims of this horrifying trend.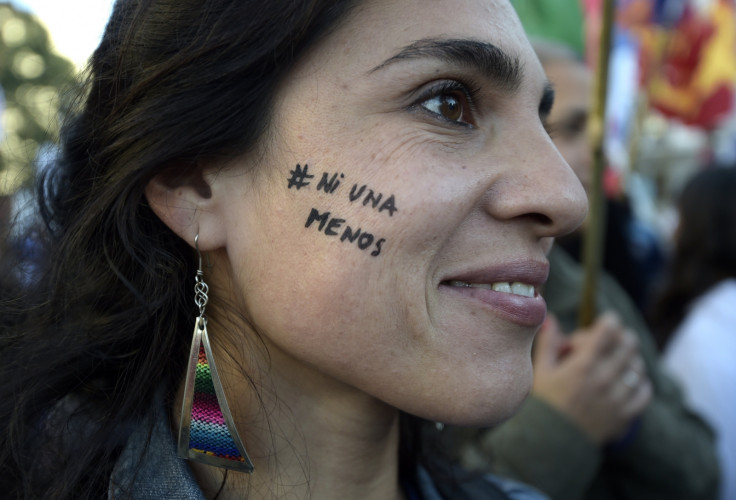 There is some comfort, though, that the term femicide is being more widely recognised. On Twitter, Argentina President Cristina Fernandez de Kirchner denounced a "culture that devastates women", giving her backing to the protests.
It is also one of 16 Latin American countries that have written the crime of femicide into their penal codes. Earlier in 2015, a database was published in the UK that forced grim recognition of the scale of male violence against women – the effort of years of counting Britain's murdered women. There were 150 women killed by men in 2014.
In Argentina, harsher punishments have been set for the crime of killing a woman because of her gender. In 2012, the country passed a law that punished femicide with a life sentence.
But, as is always the case with violence against women, legislation has raced past any significant changes to turn around misogynistic public attitudes – and the body count continues to rise.
The head of La Casa del Encuentro, Fabiana Tunez, told AFP: "The government shows up too late to stop it. In Argentina, a woman is still dying every 31 hours."
One of the problems of reporting femicide in the country is no official statistics exist on the issue. With this in mind, legislation appears to have been implemented with no real knowledge of the true scope of the problem – something protesters raised while holding signs bearing photographs of victims.
Independent surveys and reports give an indication of the problem. In 2014, Thomson Reuters Foundation published a survey that placed Buenos Aires sixth in a list of the most dangerous transport systems for women.
"We need official statistics to develop effective policies and an adequate budget to implement these policies," Mabel Bianco, the president of the Foundation for the Study and Research on Women in Buenos Aires, told USA Today.
A 2014 report by the UN found that while Argentina and its neighbours have adopted comprehensive laws to prevent, punish and eradicate violence against women, challenges in implementing the legislation remains a problem as the country has "not developed the necessary institutional mechanisms".
Part of the problem is the lack of training for police forces and those within the justice system, the UN report highlights, leaving women to suffer from "revictimisation and ignorance of their rights and the mechanisms that exist to support them in the process when they decide to file a complaint". Quite simply, legislation alone is not enough to overturn attitudes towards violence against women.
But with the support of women's rights groups, political parties, unions and the Catholic Church, Argentines are pushing for change. And they are not the only ones; the revolt has spread across the continent, too. Around 100 protesters gathered in Chilean capital Santiago, while thousands marched in Montevideo, the capital of Uruguay.
Tunez added: "We're seeing a social and political inflexion point, with people mobilising en masse because of the recent killings."
© Copyright IBTimes 2023. All rights reserved.