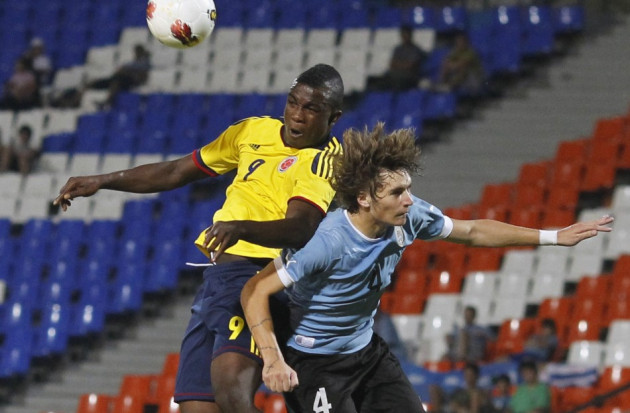 Manchester United are poised to secure a deal that will bring Uruguayan youngster Guillermo Varela to Old Trafford.
The 20-year-old full back is set to arrive in Manchester in the coming days to conclude the deal, after United agreed a fee of approximately £1m with the his club Peranol.
The move to bring the 20-year-old to England has been on the horizon for a number of weeks, before David Moyes' appointment as manager. Varela spent at least one spell with club on a trial basis last season, and seemingly did enough to impress United's scouts during training sessions with the Premier League champions.
Varela is travelling to England to finalise the deal, along with Peranol club treasurer Rodolfo Catino, who tweeted the news of the youngster's imminent arrival.
"In San Pablo airport waiting for the connection to London, with Guille [Varela] about to board," Catino tweeted.
Although the defender could be officially recognised as Moyes' first signing as United boss, signs of a done deal were evident in May when Varela himself spoke positively of his trial in Manchester.
"I have trained with the first team," Varela said following his trial in mid-May. "I am very happy and it was received well."
"It was a surprise to get the chance to test with Manchester United. I'm glad and happy, and grateful to Penarol who allowed me to travel.
"I was treated so well and Cicharito [Javier Hernandez] helped me a lot. The work outs were short but very demanding."
Varela's arrival will be another indication of the club's increased scouting operations in South America. United made a similar move last summer in signing Chilean teenager Angelo Henriquez, who subsequently spent the second half of the season on loan at Wigan Athletic.
"Our scouting there [Central & South America] has increased," former United boss Sir Alex Ferguson said in September of last year following Henriquez's arrival.
"We've got an operative in Mexico, two in Brazil and four South American scouts now.
"Quite frankly, they do produce. The South Americans love playing football, it's just in their blood."
Varela will be the seventh player at the club to hail from the South/Central America region, joining Rafael and Fabio da Silva, Anderson, Javier Hernandez, Antonio Valencia and Henriquez at the club.