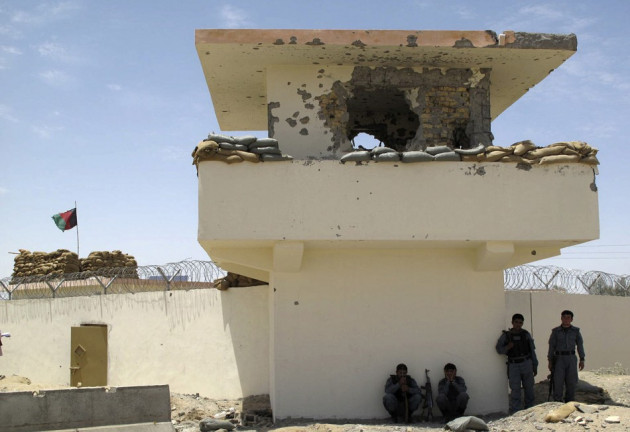 Two British soldiers were gunned down by a man dressed in a police uniform, in Helmand province in Afghanistan.
The fatal shooting happened on Tuesday and bears the hallmarks of an insider attack. It is the latest in a string of so-called 'green-on-blue' incidents - violence between coalition forces and local allies
The Gurkhas regiment is one of the elite fighting forces in the British Army. Gurkha soliders, recruited from Nepal, have a fearsome reputation for being tough and brave.
Just last week saw the deaths in the same area of marine Corporal David Connor and army medic Channing Day. They were killed while on patrol, in what was reported as a freindly fire incidnet with Afgan police..
The Taliban claimed it carried out the latest shootings.
Ministry of Defence spokesman, Major Laurence Roche, confirmed the latest deaths. "I am saddened to report the deaths of two soldiers from 1st Battalion The Royal Gurkha Rifles who were shot and killed by a man wearing an Afghan police uniform at a checkpoint in the Nahr-e Saraj district of Helmand Province.
"The loss of these soldiers is a huge blow to The Royal Gurkha Rifles and everyone serving in Task Force Helmand. Our thoughts are with their families, friends and fellow Gurkhas at this time."
The Taliban claimed responsibility for the deaths, claiming it was one of their fighters who carried out the attack.
"One of our mujahideen, Atiqulla, who had infiltrated the police forces carried out the attack in Greshk district (Helmand province) today," said Taliban spokesman Qari Yusuf Ahmadi to AFP Agency.
Next of kin have been informed. The deceased are set to be named within the next 24 hours.
Increasing 'green-on-blue' violence has undermined confidence between coalition troops and local forces. Surprise attacks by supposedly friendly local forces are becoming the hallmark of counter-insurgents.
Experts estimate the Taliban is responsible for around only a quarter of such violence. The vast majority of them were due to personal disagreements, according to NATO.
Efforts to cut down on the violence were taken by the Afgham government in Kabul. It issued guidelines to personnel, including advice to not take offence if NATO troops ask to see pictures of their wives.