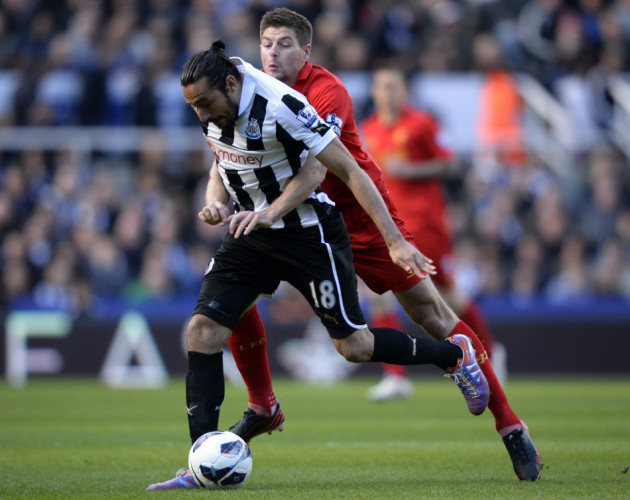 Newcastle United winger Jonas Gutierrez is hoping to end his career in his home country, with the Argentine revealing his intention to remain in the north east for another four years before making the move back to South America.
Gutierrez's current deal expires in June 2015 after he penned a four-year deal two years ago.
The 30 year old is desperate to finish his career in his homeland after five inauspicious years in the Premier League, but is happy to wait four more years to do so, hinting at the possibility of signing a new deal at Newcastle in the process.
"I want to return to Argentina," he told Goal. "I've loved being with this club for many years but I also know you have to be at one hundred per cent.
"And, today, the Premier League is very demanding, very physical. When I am 33 or 34, I'll see if I am physically fit to hold my own at that level.
"The Premier League is the best league in the world. I do not think back to what I accomplished in the past, I enjoy every day.
"I'm 30 years old and I begin to see the end because the guys who come in are younger and it makes everything more difficult. So I try to improve and I'll start my sixth season here and enjoy it."
Injuries contributed to Newcastle battling relegation for much of last season, with Gutierrez a near ever-present, making 34 starts in the Premier League.
The loss of captain Fabriccio Coloccini for much of the season through injury was a significant factor in Newcastle's troubles, while the club captain stated his desire to leave Newcastle due to personal troubles.
"Colo is the captain and that's important. He is the voice of the locker room and everyone respects him a lot," Gutierrez added.
"He is a great player and a great person. He is essential for our defence, is our captain and the commanding voice. There are many things that he has won over so many years.
"Losing him could have been very difficult, but football changes a lot, you can not know what will happen. Today he is here in Newcastle and hopefully he will be for many years."