European political leaders should stop "whining" about Donald Trump's election to the White House and unite to make the continent "great again", according to one of the EU's top Brexit negotiators.
Belgian MEP Guy Verhofstadt, who is leading the European Parliament's negotiations with the UK, also urged his colleagues not to waste their time with an attempt to finalise the Transatlantic Trade and Investment Partnership (TTIP) deal between the bloc and the US.
"Instead of whining about Trump's victory, we should come up with a plan ourselves," he said today (16 November).
"We need to expand the European border and coast guard and also develop our own European security capability to keep us safe.
"If the Trans-Atlantic Partnership is dead, we should look for co-operation and opportunities from within Europe.
"Let's not waste our time on a TTIP, that the Trump administration will never agree to. Instead, the European Union should focus on completing its own single market.
"It is time for unity in Europe. It's time to make Europe great again."
The comments come after UK Foreign Secretary Boris Johnson snubbed an informal meeting of EU foreign council on Saturday, describing the reaction to Trump's shock victory as a 'whinge-o-rama'.
Federica Mogherini, the EU's high representative for foreign affairs and security policy, claimed other nations were unsurprised by Johnson's absence.
"A couple of ministers were not coming for political reasons, one in particular, you know that well," she said.
"But I can also share with you that some in Europe are surprised, not when that country is absent, but nowadays that it is still present around the table of the 28.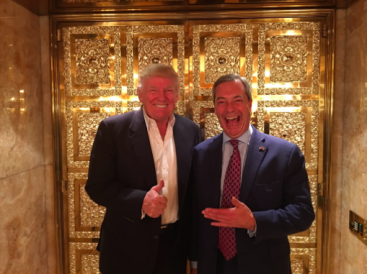 "So, I guess it is only normal for a country that has decided to leave the European Union not to be so interested in our discussions on the future of our relations with the US."
Nigel Farage, one of Verhofstadt's nemeses in the European Parliament, was the first British politician to meet with Trump after his victory.
The interim Ukip leader talked with the President-elect for around an hour on Saturday in Trump Tower, New York.
"He was relaxed, and full of good ideas. I'm confident he will be a good president. His support for the US-UK relationship is very strong. This is a man with whom we can do business," Farage said.
"I was especially pleased at his very positive reaction to the idea that Sir Winston Churchill's bust should be put back in the Oval Office."