A team of amateur archaeologists have found a large underground slave tunnel beneath the ancient villa which once belonged to Roman Emperor Hadrian.
The villa, built in the second century, was the largest ever constructed during the Roman period, covering around 250 acres and including about 30 major buildings.
Beneath the villa in Tivoli, around 20 miles east of Rome, are a series of tunnels spanning around two miles that were used by slaves to carry food, drink and other goods between the buildings without being seen by the Roman emperor or his esteemed guests.
However archaeologists have now found a new tunnel much bigger than all the others, dubbed the Strada Carrabile, or the Great Underground Road.
Vittoria Fresi, who led the research project, told Il Messagero newspaper: "All the majesty of the villa is reflected underground."
She said they first thought the tunnel was some sort of driveway, but instead found a road big enough to fit two-way traffic.
The tunnel is around 10ft wide and runs north-east and then switches south. It is big enough to fit carts and wagons down and suggests Hadrian, a keen architect, ran the estate like a small city.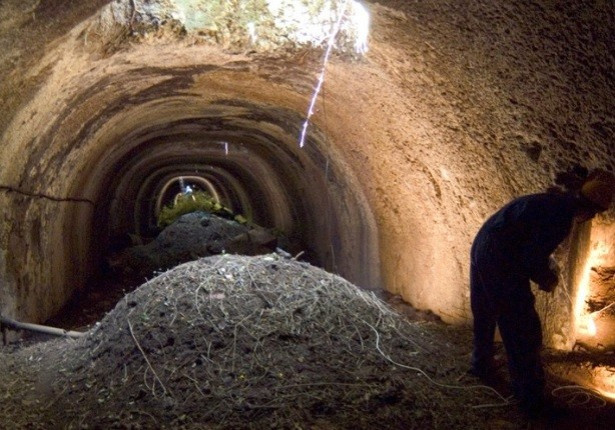 Benedetta Adembri, the director of the site, told the Guardian: "These tunnels lead us to understand that Hadrian's Villa was organised less like a villa and more like a city.
"We think the villa covered up to 250 hectares but we still don't know the limits." She said she hopes to open the tunnels to visitors soon.
Marco Placidi, the amateur caver who led the search, added: "What we are exploring is, to a certain extent, the real villa, because the tunnels will show us where the confines of the property really are.
"People are increasingly going underground at Roman sites to better understand the Romans.
"Hadrian was obsessed with solitude. He went to Tivoli to get it but was surrounded by people. That could help explain why he put so much of the life of the villa underground."
Fresi said the tunnel is currently full of soil so could lead to more buildings archaeologists have not yet discovered.