Music, dancing and costumes filled the streets of the southern Haitian city of Jacmel at the weekend, as tourists and residents celebrated carnival.
The festival got under way two years after plans for similar celebrations were disrupted by a devastating earthquake, which killed more than 300,000 people and left a million homeless.
While turnout was lighter than expected, thousands of revellers enjoyed the annual celebration.
This theme of this year's festival is Our Culture is Our Soul, which is intended to highlight the work of local artisans.
Women performed traditional dances dressed in colourful costumes, beaded jewellery and ornate headpieces as they paraded down the streets to music.
American Stan Abell said he was enjoying himself and that the carnival encouraged the people of Haiti, who are hoping the festival will boost tourism.
"This is my second time in Haiti. I was in Fondwa, Haiti, two years ago, right after the earthquake. Back here, in Jacmel today for carnival. This is amazing. There's recovery happening right here in Haiti. The people are warm, hospitable. Fun is happening. It's like the earthquake never happened, although it did," he told Reuters.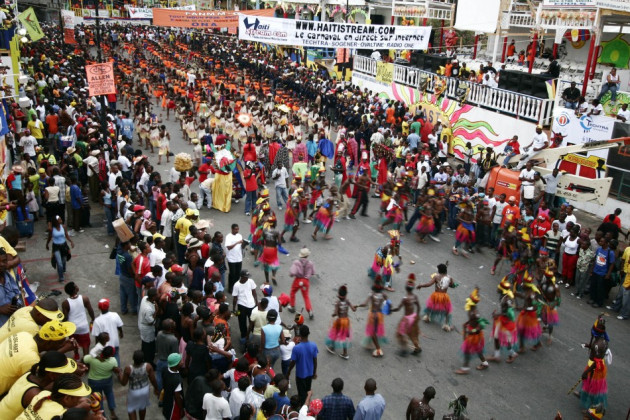 Those attending the parade dressed in a variety of costumes, with some even dressing as skeletons to mock death.
Jacmel is a city of 50,000 residents located about 25 miles from the capital Port-au-Prince.
City officials hope the festival will help spearhead a boost in tourist revenue.
The country's national carnival, which begins on 19 February, will take place this year in the city of Les Cayes.