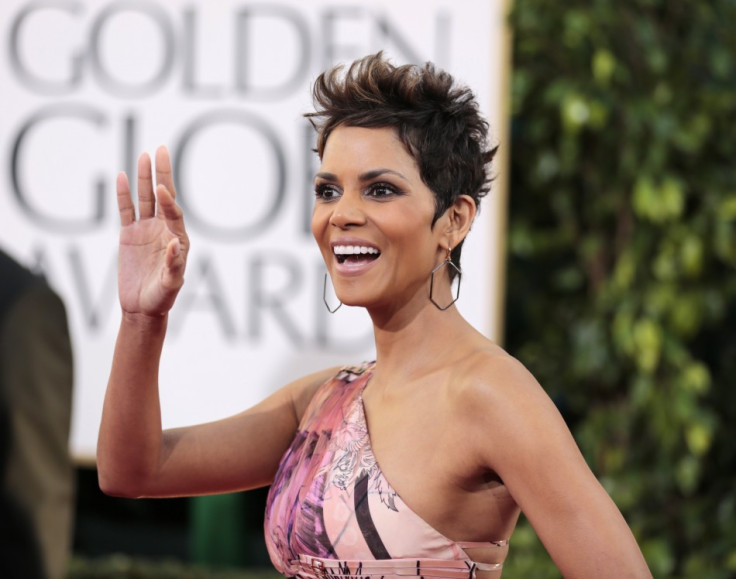 Halle Berry dipped her breasts into a bowl of guacamole to make a scene in comedy film Movie 43 more outrageous.
Director Peter Farrelly said the 46-year-old actress surprised him on set during an 'Ask Me Anything' session on Reddit.
He was asked which star in the cast surprised him most, to which he replied: "I would have to say Halle Berry. I was a little nervous about meeting her because her scene is so outrageous and I was afraid she might get on the set and baulk.
"We ended up coming up with a couple of things for her to do that weren't scripted but were insane.
"To give you an example, [her scene] is about a couple who play Truth or Dare on a first date. Among other things, she ended up sticking her bare breast into a bowl of guacamole. She couldn't have been more fun to work with."
Stephen Merchant, who goes on the date with Berry in the film, also spoke about the guacamole scene.
He told frontrowfeatures.com: "We showed up on the first day and off we went, really. I'm always concerned that big stars are going to be diva-ish or difficult but she was nothing like that. She was ready to jump straight in and happy to make a fool of herself.
"She was happy to humiliate herself in the sketch, which is something I'm always concerned about because a lot of actors are sort of precious and they don't like losing their dignity or their cool onscreen, but she was gung-ho, she didn't care."
He also said he agreed to do the film because of the opportunity to star alongside Berry: "Peter Farrelly said to me 'Do you want to be on a blind date with Halle Berry?' and I was like 'Yep. Yep'. I'd have paid them to let me do that, so there was no discussion.
"I didn't care what the rest of the film was going to be. I didn't even ask to see what the rest of the script was. I just jumped in for selfish reasons. I just wanted the photograph to put on my wall with me and Halle Berry.
"They mentioned there were these other sketches with other people, but I wasn't listening. I was too busy thinking about Halle Berry."
Sources have told E! News that the breasts Berry dips into the guacamole are not actually that of the actress: "They're so huge. You can totally tell they're fake," an insider said.
Movie 43 is released today (25 January) and also stars Hugh Jackman, Kate Winslet, Dennis Quaid, Naomi Watts and Richard Gere.