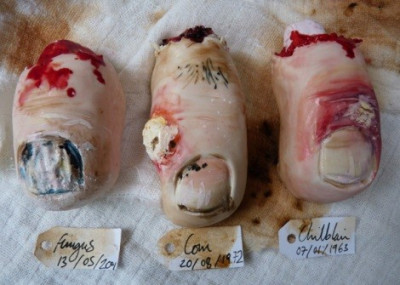 A freakishly tasty exhibition is set to open in London's St Bart's Pathology Museum, with edible brains, spleens and rotting toenails all on offer.
The anatomical cakes have been created by Evil Cake Head for the Eat Your Heart Out exhibition, which runs from 26-28 October.
It is free to attend and aims to educate visitors about the real conditions featured in the gruesome treats, such as polycystic kidneys, lung cancer and toenail fungus.
There will also be a series of pathology-based lectures that examine medical problems. Dr Lesley Hall, senior archivist at the Wellcome Library, will be giving the lecture 'Sex and the City', which looks at venereal disease in London from the 17th century, through to present day.
Another lecture will focus on melanoma, looking at the dangers of sunbeds and how to check for moles and malignancy.
Carla Connolly, technician and assistant curator at the Pathology Museum, said: "We hope to create an interest in the topics of anatomy and pathology, for example - raise awareness of the need for blood donations, educate visitors about transplants and ensure people understand the dangers of alcohol abuse and smoking.
"Most importantly, we'll be showing that serious, or often taboo, subjects can still be communicated through an accessible medium."
The Evil Cake Shop was started by the alter-ego of Emma Thomas, Miss Cakehead, in 2010, claiming to be the world's first over-18s cake shop. The forthcoming exhibition is the first time the Evil Cake Shop has had a bar. It will be selling cocktails such as 'Stool Sample', 'Stomach Contents of a Suicide Victim' and 'Urine'.
Cake prices start at £3 and box sets, such as Prostate Cancer Truffles and Eye Disorder Biscuits, are also available.