Nights are getting darker and pumpkins are slowly taking over shops across the country. That can only mean one thing: halloween is almost there, and that is good news for retailers.
With just three days to Halloween, procrastinators are rushing to the stores for a last-minute halloween costume. "That is no problem," Emma Angel, director at UK's largest and oldest costume house, Angels Fancy Dress, tells IBTimes UK, although she admitted it would have been better if more people had purchased their costumes by now.
The origins of halloween
According to legends, halloween is said to be the day on which the border between the dead and the alive is the most fragile. It is thought to be a holiday from the Celtics, where it finds its roots in the festival of Samhain. Celts would wear their scary costumes and light up bonfires and torches to scare off ghosts they believed were roaming the grounds.
"It is already a lot busier this year than it was last year," Angel said. "Halloween is simply becoming hugely popular."
Already a £330m industry, halloween, hugely popular in the US and recently becoming ever more popular on UK's cultural calendar, is booming. It is now the third most popular holiday and spending event of the year, placing it right behind Christmas and Easter.
"The success of halloween in itself is that, for example, my generation and generations younger than me have definitely experienced this Americanised idea of halloween. We grew up watching high school films and television shows set in the UK and we found out that actually, Halloween is a very exciting and fun thing to celebrate," Angel said.
She is the sixth generation of Angels to run the business, since it was founded in 1840. In 2008, the firm acquired the BBC costume department, making it the biggest costume house worldwide. It has provided costumes for Oscar-winning movies like Hamlet, Star Wars and Titanic.
Angels Fancy Dress shop, and its website fancydress.com which is also the most visited costume website, is hugely popular because of its fame and proximity to London's West End and Covent Garden.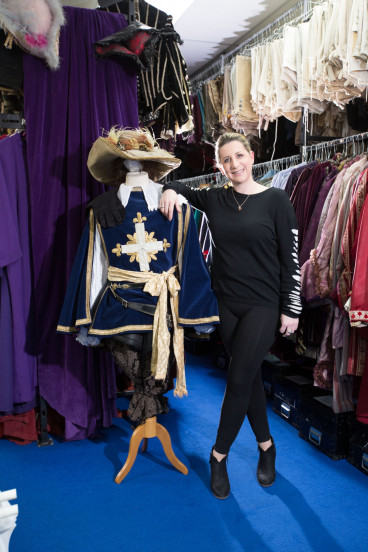 "We actually employ security guards to crowd-control because of the queues," she added. "We send staff outside to talk to the customers and have a chat about what they want."
With security guards and queues in the cold, the buying frenzy is starting to look like Black Friday, another retail phenomenon imported from the US.
"Our queue might look quite scary when we hit it but we process people through the store, the store can hold quite a large quantity of people, so, it's actually not that bad, you would only be outside for around 15 to 20 minutes," she reassured.
The rise and rise of halloween has however dampened enthusiasm for the traditional bonfire night which commemorates Guy Fawkes' Gunpowder Plot to set fire to the Houses of Parliament on 5 November.
"Firework parties, that we used to attend when we were younger, are less and less just for the family now," Angel said. "They tend to be more organised now, they are events you don't hold in the garden anymore."
But Americanisation and the desire for a party in cold October are not the only reasons why halloween is gaining momentum in the UK. "It's just a lot of fun. People like dressing up, people like the idea of an unconventional party, and people of all ages just go along with it and have a good time," Angel said.
Halloween falls on half-term this year, making it easier to organise parties for parents of young children. For others, it is especially nice that halloween is also on a Saturday. However, Angels and other retailers have seen halloween spending sky-rocket just like the fireworks shooting up into the skies.