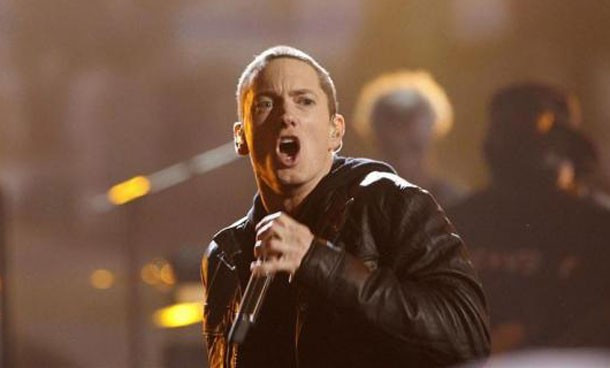 Dig out your favourite Eminem songs today and party as the rap god is celebrating his 44th birthday (17 October 2016). Slim Shady is widely regarded as one of the best lyricists to ever grace the microphone and rightfully so as Eminem has delivered some of the most memorable rap verses in history.
In a genre mostly occupied by African-Americans, Eminem, real name Marshall Mathers, defied racial prejudice to dominate the scene in the late 1990s and early 2000s. Under the wing of Aftermath records boss Dr Dre, the Detroit-native changed the musical landscape with his debut album The Slim Shady LP in 1999 before unleashing the masterpiece that was The Marshall Mathers LP in 2000.
Whether he is throwing major shade at celebrities, opening up about his turbulent childhood or spinning some slick wordplay, Eminem's lyrical talents are a force to be reckoned with. Delving into his passion for rapping, the My Name Is hitmaker told former BBC Radio 1 DJ Zane Lowe: "I love the expression of it.
"The fact that you can express yourself in a rhyme and lay it down and it can be therapeutic, and you've got it off your chest, and then you could go on to the next thing. I don't know, there's so much s**t that I love about rap."
It is almost impossible to list all of Eminem's best rap verses but as the rapper celebrates his 44th birthday, IBTimes UK has whittled down just some of his finest.
Eminem's most iconic rap verses
Stan – verse three
Notable lyrics:
"I loved you, Slim, we could've been together - think about it! / You ruined it now, I hope you can't sleep and you dream about it / And when you dream, I hope you can't sleep and you scream about it / I hope your conscious eats at you and you can't breathe without me"
Renegade – verse two
Notable lyrics:
"Since I'm in a position to talk to these kids and they listen / I ain't no politician, but I'll kick it with 'em a minute"
"Cause, see, they call me a menace, and if the shoe fits I'll wear it / But if it don't, then y'all swallow the truth, grin and bear it"
"Maybe it's hatred I spew, maybe it's food for the spirit / Maybe it's beautiful music I made for you to just cherish / But I'm debated, disputed, hated and viewed in America as a m*********n drug addict - like didn't you experiment?"
Forgot About Dre – main verse
Notable lyrics:
"So what do you say to somebody you hate or anyone tryin' to bring trouble your way? Wanna resolve things in a bloodier way? Just study a tape of NWA."
Cleanin' Out My Closet – verse two
Notable lyrics:
"I maybe made some mistakes but I'm only human, but I'm man enough to face 'em today / What I did was stupid, no doubt it was dumb, but the smartest s**t I did was take the bullets out the gun / Cause I'da killed him, s**t, I would've shot Kim and him both / It's my life, I'd like to welcome y'all to The Eminem Show"
Without Me – verse three
Notable lyrics:
"I am the worst thing since Elvis Presley, to do black music so selfishly/ And use it to get myself wealthy/ There's a concept that works, twenty million other white rappers emerge / But no matter how many fish in the sea, it'll feel so empty without me"
Lose Yourself – verse one
Notable lyrics:
"His palms are sweaty, knees weak, arms are heavy / There's vomit on his sweater already: Mom's spaghetti"
Rap God – verse three
Notable lyrics:
"School flunky, pill junkie / But look at the accolades the skills brung me / Full of myself but still hungry"
My Name Is – verse one
Notable lyrics:
"Hi, kids! Do you like violence? Wanna see me stick nine inch nails through each one of my eyelids?"
The Way I Am – verse one
Notable lyrics:
"I sit back with this pack of Zig Zags and this bag of this weed / it gives me the s**t needed to be, the most meanest MC on this Earth"