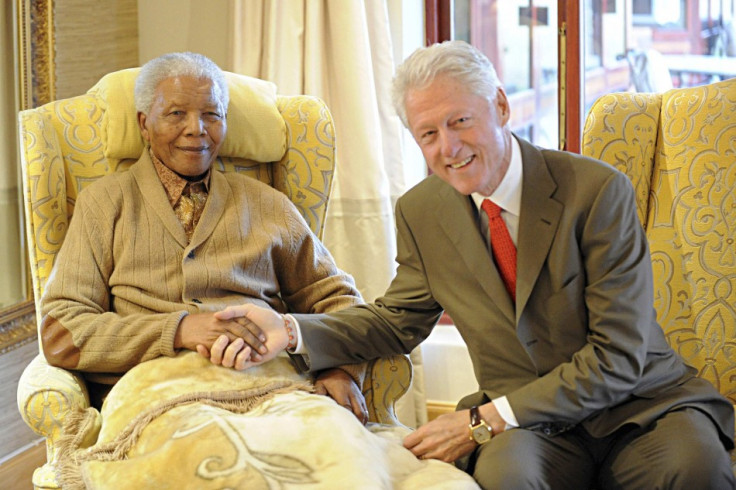 Nelson Mandela's 94th birthday is being celebrated across the world on Wednesday along with his home country South Africa.
For Madiba, as he is fondly called by his clan name, celebrations are expected to be a private affair considering his failing health. The anti-apartheid crusader has retired from public life and is leading a quiet life in his village home of Qunu.
According to a report in the Sowetan newspaper, the celebrations include a traditional meal of tripe and samp, a corn dish popular in his region.
"We will probably have food like samp and tripe, his favourite food. The big lunch will be at 4:00 pm (14:00 GMT) where we will present him with a cake," the AFP quoted Madiba's granddaughter Ndileka Mandela as telling to the daily.
However, in South Africa, nearly 12 million school children started their day by singing a special birthday song, "We love you father," the AFP reported.
"As we celebrate his birthday, we remember that he fought for us in the struggle. The struggle was to fight apartheid," one of the children at Batsogile primary school in Sowet told the news agency.
"He spent 27 years in prison. We would want to say thank you Madiba, and we wish you happy birthday, and many more years to come," the 12-year-old added.
Former US President Bill Clinton visited Mandela at his Qunu home on Tuesday.
"When I think about Mandela I always think about someone committed to the future," said Clinton after meeting Mandela.
"We worked together as presidents and even after we left office we continued working together to improve education of the children worldwide in order for them to share the future," he added.
Other dignitaries who wished Mandela on his birthday include US President Barack Obama and Tiger Woods.
"[Mandela's] extraordinary life and steadfast commitment to the principles of democracy and reconciliation continues to be a beacon for people of all backgrounds who strive for dignity, justice, and freedom," said Obama and Michelle Obama in a statement.
"He has such a presence and aura about him, unlike anyone I've ever met," said Tiger Woods at the British Open on Tuesday.