Hard to swallow: Donald Trump chows down on taco bowl and tweets: 'I love Hispanics'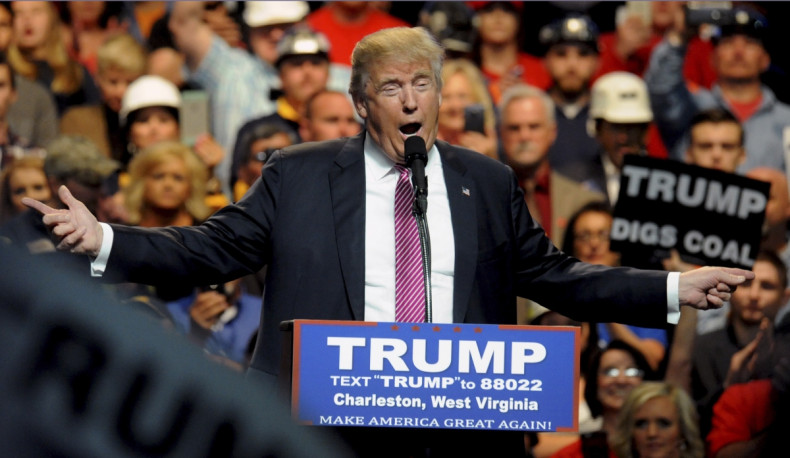 It might take a little more than eating sour cream to convince Latino voters to back the candidate who wants to build a wall between the US and Mexico, but Donald Trump gave it the old campaign chow-down try. Trump appeared in a photo about to tuck into a hearty taco bowl of ground beef, beans, cheese and a dollop of sour cream at his Trump Tower office to mark the Cinco de Mayo holiday, and tweeted: "I love Hispanics!"
Nearly as entertaining were the avalanche of tweets in response, from the inevitable photos of people eating all kinds of ethnic foods and declaring "I love Asians," "I love Italians," etc.
Respected Mexican-American journalist Jorge Ramos, who was once ejected from a Trump press conference after the candidate told him to "go back" to the Spanish-language Univision television network, responded: "So difficult to say at the same time 'I will deport 11 milliion' AND 'I love Hispanics.'"
Another tweeter noted: "I'll give you this ... he does his own tweets. No public relations person in the world would say what he says."
Trump has alienated American immigrants (and those in Mexico who enjoy burning him in effigy), especially with his early campaign comments calling Mexican immigrants — and others — "rapists." He said then: "You have people coming in and I'm not just saying Mexicans, I'm talking about people that are from all over that are killers and rapists and they're coming into this country."
The comment so infuriated the community that businesses cut ties with Trump, including Univision Communications which had been airing his Miss USA Pageant, and Macy's, which announced it was dropping his menswear line. Trump in turn called for a boycott of the companies.
Trump has also repeatedly called for the ejection of some 11 million undocumented immigrants and is insistent that a wall be built between the US and Mexico. He's heading into the general election with rock-bottom support from the community. According to a March Gallup poll, 77% of Hispanic voters have an unfavorable view of Trump. And they make up about 12% of the eligible voters in the nation, notes NPR.
The CEO of Univision, which recently settled a lawsuit filed by Trump after the broadcaster dropped his beauty pageant, said in a first-quarter earnings conference call that Trump can't win the election if he "disregards" Hispanic voters. He expects the Democrats to spend big on Univision political ads.
The Democrats "understand that the road to the White House is through the Hispanic community, and we are the gateway to that community," said CEO Randy Falco. By the way, the Trump Grill doesn't actually serve a taco bowl — though the nearby Trump Grill Cafe does offer something similar called a "Taco Fiesta."
Food critic Robert Sietsema early this year in a piece entitled "Diving Head-First into Donald Trump's Culinary Abyss" called the dish "bland" — "so devoid of flavor it rendered an insult to Mexicans every bit as profound as Trump's previous pronouncements," he wrote in New York Eater.