Love was in the air for Harry Styles and James Corden in the latest edition of Carpool Karaoke. After a week of co-hosting The Late Late Show With James Corden, Styles showcased his vocal chops and sang tracks from his new self-titled album – while also reenacting some of Hollywood's most romantic moments.
Kicking off the 13-minute segment, Styles, 23, belts out his chart-topping debut solo single Sign Of The Times before admitting that the anthemic ballad "makes me cry sometimes – in a cool way", prompting Corden to mock the singer's attempts at downplaying his emotions. Styles also reveals that his solo album, released earlier in May, brought his mother to tears when she first listened to it.
The pop star then belts out her favourite song on the album, Sweet Creature, a country-inspired ballad on which Styles' vocals shine. Corden then quizzes the former One Direction star on the "bold fashion choices" he has made over the last few months, which have included an array of brightly coloured shirts and trousers.
Commenting on the floral shirt Styles wears for the segment, Corden suggests that if he were to wear it, it would look as though he was on his way to a barbecue. Styles then cheekily says: "There's only one way to find out," before the pair swap shirts and model a series of eccentric outfits – including string vests and gold PVC tops.
After singing a rendition of Outkast's Hey Ya, Styles then duets with Corden on his karaoke favourite: Endless Love by Diana Ross and Lionel Richie.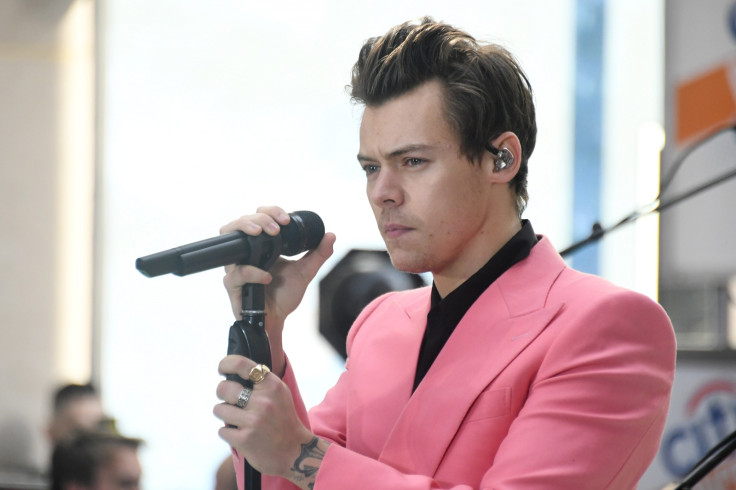 Clearly in the mood for love, the pair then reenact a scene from the rom-com Notting Hill starring Julia Roberts and Hugh Grant, with Styles reciting the line: "I'm also just a girl, standing in front of a boy, asking him to love her." The singer then plays Kate Winslet's character Rose from the epic movie Titanic, and asks Corden, playing Leonardo DiCaprio's Jack, to "draw me like one of your French girls".
In true rock and roll fashion, the segment draws to a close with Styles' Kiwi, during which the pair head-bang and bash the car roof. Styles is on course to claim his first solo number one album in the UK with his eponymously-titled album, which was racing ahead of Ed Sheeran's former chart-topper Divide in the midweeks.