Ever since Katie Holmes called it quits with Hollywood star Tom Cruise, speculations have been rife about her hush-hush romance with Jamie Foxx.
Each time Holmes is asked about her private life, the actress declines to comment but perhaps the same can't be said for Foxx.
The Django Unchained actor was recently caught by a photographers at Los Angeles International Airport and was asked about his much-speculated dating life.
Surprisingly, instead of denying the rumours, the actor had a cheeky response that might raise some eyebrows.
When asked about Holmes, Foxx tried to shoot down the rumours saying "Fake news, fake news."
But, when a fan continued asking 'Is it fake news?', the Oscar-winning actor unconvincingly responded by saying "C'mon...", the Daily Mail reported.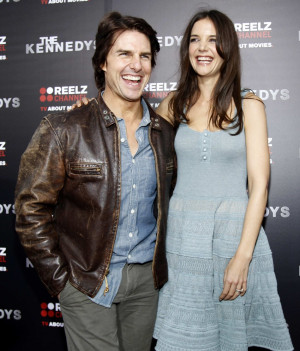 What followed next was a vain attempt by the 49-year-old actor to divert the topic from his love life to his upcoming game show Beat Shazam.
However, right before Foxx could make it to the elevator, the inquisitive fan dropped another bombshell – this time in the form of a complement.
He told The Kingdom actor that he and Holmes make for a cute couple, to which Foxx cheekily replied, "Thanks for saying I'm cute."
The buzz about Holmes and Foxx's super-secretive romance has been doing the rounds since 2013, soon after the Dawson's Creek star split from Cruise. Though they have never confirmed, they have been spotted together on multiple occasions. Most recently they were reported to have jetted to Paris to enjoy a low-key holiday.
"She's head over heels for him," a source told Us Weekly adding that the couple is done worrying about the attention. "They're going to go out to dinner more often."
"She gushes about how amazing he is," an insider said. "They're talking about planning a summer trip together in Europe."
Before being linked with Foxx, the actress was married to Cruise with whom she shares 10-year-old daughter Suri.
Foxx is father to Corinne, 22, and Annalise, 8, from previous relationships.