Jeremy Corbyn has been forced to deny reports that he has set a resignation date in the midst of shadow Cabinet chaos ahead of tonight's (8 February) Brexit vote.
A regional journalist set the rumour mill alight in the early hours of this morning with a tweet claiming that a source had told her Corbyn had set a date for his departure. A spokesman for Corbyn told IBTimes UK: "It's completely untrue."
Just after midnight Jennifer Williams, social affairs editor of the Manchester Evening News, tweeted that she had been told "Corbyn has given a departure date to his close circle".
Williams admitted that the allegation was "single sourced" but went on to add that two further sources had described "definite manoeuvering around the Labour leadership" and an "expectation that Corbyn is going, not necessarily straight way, but going".
Labour sources have been quick to refute the allegations in the wake of tonight's vote on the third reading of the bill to allow the Government to trigger Article 50, which will set in motion Britain's departure from the European Union.
After a period of relative unity within the Opposition, Corbyn has come under intense pressure as scores of his own MPs last week defied a three-line whip on the second reading of the bill. Shadow Cabinet members have resigned in protest against the party's position to support the Government's Brexit plans.
Today, Shadow Business Secretary Clive Lewis hinted that he could be following suit. Asked by Sky News if he was going to resign he said: "I don't know. I'm going to make my mind up. [There's a] lot on my plate, a lot on everyone's plate, a lot to think about, and we'll see what happens in the lobbies today."
Attention will also be focused on long-standing Corbyn ally Diane Abbott, who missed the vote on the second reading of the bill with a mystery illness.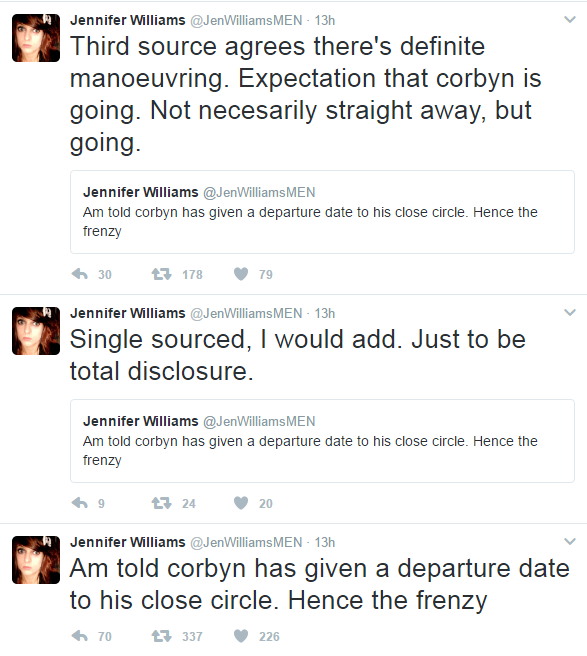 At around 9am Williams tweeted again, saying: "Have also [been] told by a couple of people (unprompted, so interesting) that Rebecca Long-Bailey [is] being positioned as Corbyn successor."
Salford and Eccles MP Long-Bailey is currently Shadow Chief Secretary to the Treasury. The 37-year-old trade unionist's daughter has long been considered a rising star within the Labour Party. She was one of 36 MPs to nominate Jeremy Corbyn in the 2015 Labour leadership election.

Willliams' claims were challenged directly by Time for Change, a pro-Corbyn Twitter account, which wrote: "Who are your sources? Did you go to the Laura Kuenssberg school of make-it-up gossip journalism?"
In the aftermath of the November 2015 Paris terror attacks BBC Political Editor Laura Kuenssberg reported that Corbyn had said he was "not happy with a shoot-to-kill policy" in response to a question about how British police should respond to terror attacks.
The BBC Trust found that Kuenssberg had misrepresented Corbyn, who was in fact answering a question about general policing protocol. Kuenssberg has since been booed by Corbyn supporters at press conferences.
Williams responded: "The mood in the PLP [Parliamentary Labour Party] seems as desperate as last summer. Gossip can tell you a lot."